P. P. COATING
COMPANY'S PROFILE WITH PRODUCT / SERVICES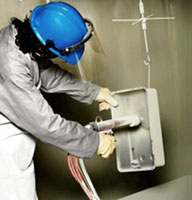 P. P. Coating, the Company which has been functioning since the year 2005, with its huge setup and manpower operator for Thakurpukur, Behala, Kolkata.
They have engaged in doing the total job for India Railways for their fans to give the powder coating finished product.
It is a complete process whereby a raw product could be a finished product after powder coating and colouring.
It has got the tremendous market feedback as far as powder coating and colouring is concern till date.
ABOUT US | SERVICES | FEEDBACK | CONTACT US | E-MAIL
Copyright (c) calcuttayellowpages.com (P) Ltd