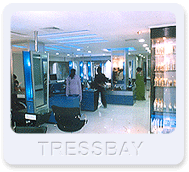 TRESS BAY
, is a
L'Oreal
collaboration salon which is the outcome of the endeavor to develop the Indian Salon industry and bring it at par with the international standards.
TRESS BAY
, a one stop shop for hair and beauty care, located in Alipore, which is one of the most posh and high traffic areas in Kolkata. The staffs trained by L'Oreal professionnel technicians is always abreast with the latest international fashion trends by way of L'Oreal colour collections uses the equipments which are best in the world serves you in this unisex salon with a transparent fašade.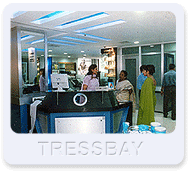 One can feel the care taken by the
TRESS BAY
people and the L'Oreal in choosing the location, the thoughtful interior design by the designers with international exposure, the equipments used here manufactured by Maletti, the internationally acclaimed salon equipments manufacturer. The staffs, apart from being trained by L'Oreal professionnel technicians, gets frequent trainings with foreign hairdressers.
TRESS BAY
is also keen on conveying the message of the new age self-care to the mass, especially to the younger generation, which is reflected in frequent seminars organized in prestigious high school and college campuses.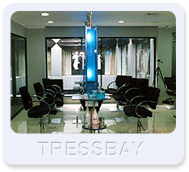 TRESS BAY
is always keeps pace with the fast changing fashion-trends world-wide, with the L'Oreal, originating from the fashion capital of the world, Paris, being the collaborator. The
TRESS BAY
people are proud to attend at least ten to fifteen workshops a year with the world famous hair-dressers like Tony & Guys, SAKS, Frank Provost etc.
The spacious salon with trendy and modern ambience which is complimented with a fine and very well trained staff brings a world class salon experience to the city. The trendy unisex salon has an exclusive beauty salon for the ladies also. The salon offers you to not only look good but to rejuvenate your soul.