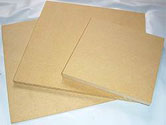 Medium density fiberboard is used in many furnishings because of its benefits.

This board product has become the popular and functional choice in furniture construction. Office, school and home furniture manufacturers include it in the construction of their desks, work surfaces, and higher quality whiteboards, among other products. MDF is man-made from wood fibers, rather than particles, compressed together with adhesive. It is very strong, provides longevity, is resistant to warpage caused by moisture. Its smooth quality surface allows for easy application of varnishes and laminates, oil or water-based paints, and it's easily cut, drilled and machined. Consumers benefit from cost savings compared to real wood.
MDF board reduces wood waste, and it's superior to particleboard for furniture construction.

It is possible to make MDF from 100% recovered wood fiber, so habitat preservation is aided, deforestation slowed, and landfill waste reduced. Most often used as a substrate that is covered by stylish laminates and finishes, so it's invisible to the consumer eye. MDF is contained in many parts of home and office construction as well as in numerous furniture item, such as desks, bookcases, credenzas, stands, and more Compared to particle board, MDF is stronger, more dense, much more resistant to warping, and has machine-able edges that reduce the necessity for edge-banding.