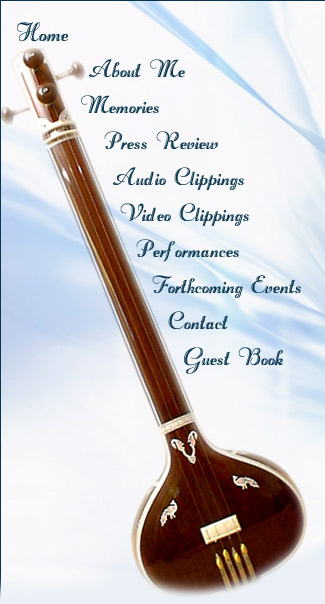 Siddhi Vinayak Mandir in Mumbai at the Magh Mahotsav in February 2013.

Sham e Ghazal program organised by Shri Tushar Bhatia in February 2013.

Umang Festival held by NCPA Mumbai in February 2013.

Performed with Ustad Zakir Hussain at Aadi Anant Festival organised by NCPA Mumbai in December 2012 in Mumbai and January 2013 in Delhi.
Nizamuddin Khan Saheb Barsi at Karnataka Sangh in September 2012 held by Khayal Trust and Kalabharati.

"Mahashala Kala Sangam, Mashel held in Goa in June 2011."

"Alladiya Khan Punyatithi Samaroh held in Mumbai in April 2011. "

"Shrutinandan" in Kolkata in October 2009.
Bade Ghulam Ali Khan Yadgaar Sabha, Mumbai, January 2009.
NCPA, Mumbai, 2008.
Ravindra Natya Mandir,Mumbai-Shraddhanjali to Smt Shobha Gurtu, 2008.
Kesarbai Kerkar Sangeet Samaroh, Kala Academy, Panjim, Goa, 2008.
Samrat Club, Mapusa, Goa sharing the stage with Pt. Satish Vyas, 2007.
Harare International Festival of Arts in Zimbabwe in April 2007.
"Shab-e-Ghazal" held by "Sur Singar Samsad" in May 2005 and May 2006.
"Khazana Festival of Ghazals" in September 2003 and July 2005.
Rendered vocal support to Ms Prachi Shah for Kathak recitals at Delhi, Nagpur, Lucknow, Bhopal and Mumbai
"Mehfil" - organized by Rotary Club of Bombay Mid-town at Nehru Centre in March 2004.
'Youth Festival" held by Dadar-Matunga Cultural Centre in the years 2002 and 2004.
"Mehfil" organised by the cultural wing of Nehru Centre, 2003.
"Yuva Sangeet Mahotsav" held by Nehru Centre, 2002.
"Indian Music Group" at St. Xavier's College.
"Raageshwari" on the occasion of Holi at Nehru Centre, 2001.
"Swami Haridas Sammellan" held by "Sur Singar Samsad", 2001 .
"Kal Ke Kalakaar Sammellan" held by "Sur Singer Samsad", 2001.
' Adaab Arz Hai" on Sony TV (semi-finalist), 2000.
"TVS Saregama" on Zee TV (semi-finalist), 1996.
Home Concerts and Private Gatherings in Mumbai and Abroad.