In 1977, work began with a coaching center for poor students. Besides academic studies, the students learnt community living, sharing the joy of simple living in close association with the teachers. Some students were so charmed with the 'new education' that they started preferring staying with the teachers even in the night. Gradually, ten poorest of poor students were provided shelter, food, dress and education by the five friends. There were no funds. As a result they begged from door to door. Starving was common. But that could hardly dampen their high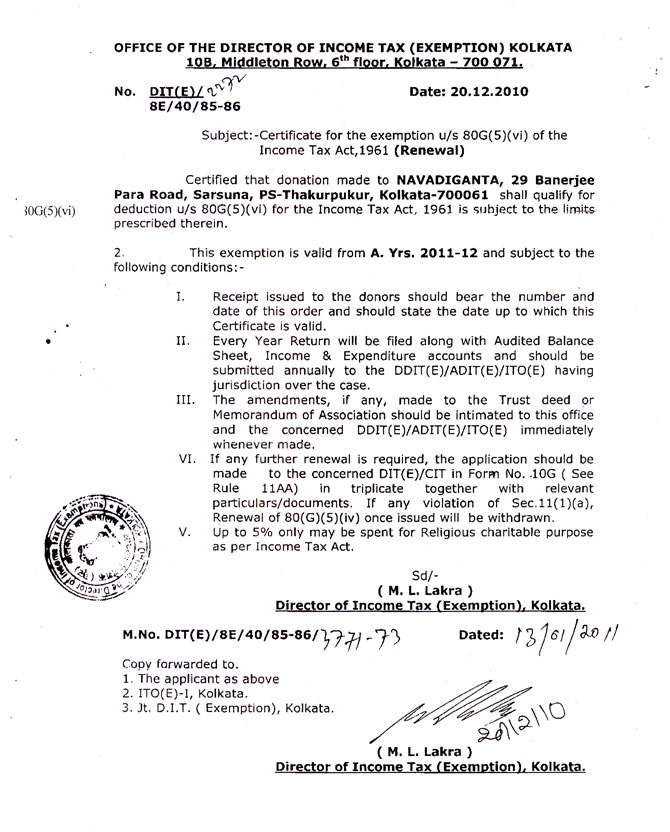 spirit. This studying-teaching-begging-starving cycle continued till the organization NAVADIGANTA was born and got officially registered on 21st March 1981.
Somehow, the then State Minister for Social Welfare, Mrs. Nirupama Sen came to learn about all these happenings and helped the group with a lump sum grant of Rs.9000 in two spells . The State Government gave them the permission to look after 50 Destitute Boys and sanctioned a grant of Rs.68.50p per child per month under the Capitation Scheme in 1981 and sent 40 boys from government shelters in the following year. Later, in 1984, the cottage scheme, run concurrently by the State and the Central Government, replaced the capitation scheme and the fund allocation improved to rupees 112.50 per head per month.
In 1987, accommodations were provided to two willing old people and soon the demand for an old age home could be felt. Lots of applications started flowing in and fifteen more people were given shelter. The ground floor and the 1st floor of the old age home was constructed with help of private donations.
A unique situation emerged. Destitute children and lonely grant parents of different origins and different status came in contact with each other and enjoyed the warmth of the age-old relationship. Women in distress due to various reasons also seek refuge. They received training for various services to enable them to earn their own bread. The Ashram – organization became a place of harmony-where mutual support of the members helped each other in their existence and in living a comfortable life. The children received education, the women got safety and shelter and the elders become the guardians of all.