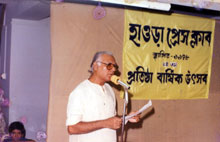 Gouranga Sengupta is one of the leading literary personalities of the Modern Bengali Literature. He was born at Shibpur, Howrah in 1939. Since his early school-age, he had started different types of literary creation. His first published litature was published in his collage life . Since then his poetry or story had been published in many leading Journals and papers like Satya Jug, Amrita Jugantar etc. Since then, he was awarded many times for his quality writing. He has the natural talents to establish his credentials in Poetry, Story, Essays, script writing, Drama, etc. His short story books, Novels, Drama Books had been published. He has been published a prestigeous book "Ami Srimati" (Nritya - Natya) which is a compilation of the poems of Rabindra Nath with Rabindra Sangeet and Rabindra - Dance. Since last 12years, Gouranga Sengupta has been editing the very literary Magazine Naba Nakshatra as its founder-cum-editor. The little Magazine Naba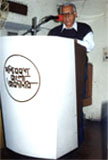 Nakshatra is giving the opportunities. Now his literary conditions are mainly focused on Little Magazine, Journals, And Literary Papers. He had good relations with Late Sibram Chakraborty, Poet Late Subhas Mukhopadhyay, Nirendranath Chakraborty and the Secretary of PEN Deb Kumar Basu. He is actively concerned with different cultural organization like P.E.N, Paschim Bangal Sahitya Patrika like Sudakshina Sahitya group, Parjabekshek of Asansol, Nikhil Bharat Banga Sahitya Sammelan Ramkrishnapur Branch, 'Akhil Bharatiya Bhasa Sahitya Sanmelan Bhopal, Press club of Howrah, Howrah writers Association, Ashabori Literary Magazine, Sourav Sahitya Patrika (College Street). His Valuable literary interviews was published in the Nationalised news-paper, Hindustan Times respectively on 19 th August and this literary interviews was telecast in Door Darshan on 19th September & 21st September of 2003.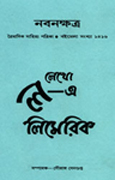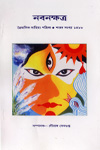 Naba Nakshatra was first published on the Bengali year, 1402. At the firststage, its name was Nakshatra. After that the name had been changed as Naba Nakshatra. It is a quarterly published magazine, which is being published continuously and regularly since over 12 years. There are some special publications like Lila Majumder, Dakshinaranjan Mitra Majumder, Kabi Paksha -1414.
Different types of Literary Creation Like Short stories, Novels, Eassays, Dramas etc, are being published in this Little Magazine.