About Him :
Dhurjati Chanda
is one of the famous literary Personality of Bengal. He is renowned as poet, writer, novelist, editor etc. By his credential qualities in many fields of literature. He was born on 8th February in 1945 at Narayan Gaunge of Dhaka in Bangladesh. He is Gradute in Science. He had continued his service and writings parellelly. Now he is retired. His wife, Nilima Chanda is a teacher. His daughter, Dhuritisree Chanda is a poet and professionally a Lawyer. He was one of the pioneer of the Dynamic Art Movement in 1975. He has got the honourable reception from joint organization of the students of Bengali Dept. of Calcutta University and "Pather Panchali". He has achieved the award "Uttarapath" from Sweden in 1987. He has received "Dr. Smarajit Dutta Smriti Sahitys Award in 2001. He has gained the "Kabita Pakshik Award" in 2002. He has achieved the "Benuka's sahitys Sammanana": in 2007 and many others.
Some of his Published Books :
Poetry Books:
Aprakasita Kabya Grantha
Majar Padya - O – Anyanya Kabita
Ekla Jabo, Dakshine Na
Jachhi Maya
Dhurjati Chandar Premer Kabita (Mini Book)
Anadare Chaturthi
Ekla Jabo, Dakshine Na (2nd edition)
Novels:


01.Barapher Machh
02.Gobinda

Story Compilation:
Sei Sab Galpaguli

Juvenile Book:
Phool Masir Goyendagiri
About "Ebang" (Little Magazine):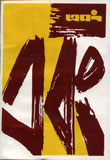 "Ebang" is the very famous quarterly Bengali little Magazine for more than 42 years, It's a completemagazine. All types of literary creations of almost all the literary Personalities has been published in this little magazine. Dhurjati Chanda is the founder-cum-Editor of this Magazine.
Gallery :
ABOUT US | SERVICES | FEEDBACK | CONTACT US | E-MAIL
Copyright (c) calcuttayellowpages.com (P) Ltd