SECURITY SERVICE :
Security Guard (Ex-Servicemen)
Security Guard (Trained Civilian)
Security Supervisor
Astt. Security Officer
Security Officer
Chief Security Officer
Armed Guard (Gunman)
Lady Security Pesonnel
Trained Dog
MAINTENANCE SERVICE :
Caretaker/Building Mgr
Liftman
Electrician
Gardener
Plumber
Sweeper
As per Mandatory labour law, the above personnel are entitled to a day off on weekly basis and should they be required to render services on their off days, they will have to be reimbursed for the same, on a Pro-rata basis.
TEMPORARY/EXHIBITION SERVICES :
We specialize in providing security services at exhibitions, fairs, Congregation and other Public gatherings, having made security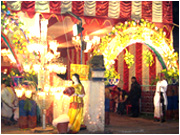 arrangement at all the major exhibitions held in the city in the last 10years.
Security Guard
Ceremonial Security Guard
Security Supervisor
Security Officer
Plain-Clothes Man
ESCORT SERVICES :
We provide escort services to MAN, MONEY and MATERIALS. Our rates being commensurate with to the distance covered, time taken, nature of charge, category and number of Personnel involved.

PRE-EMPLOYMENT SCREENING & RECRUITMENT SERVICES:
We can Provide an entire range of personnel to man your establisement, from stenographers telephone operators, accountants, Peons etc. etc. We also conduct Pre-employment Screening of Personnel you have recruited on yours Own. Our charges shall be inclusive of expenses incured on release of recruitment advertisements in publications Plus one month salary of the Staft recruited.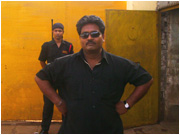 INVESTIGATION SERVICES:
We can Provide Professional vestigation services. Our investigation wing is manned bby EX. CBI CID and foreign treined detectives. The rates for investigation depends on the case History of the client, nature of operation, T.A. charges incurred and other over hand charges involved.