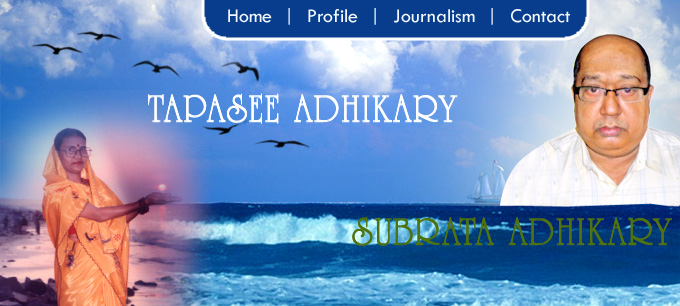 ABOUT ME :
A PERSONALITY WITH THE OPEN SKY AND SEA
SUBRATA ADHIKARY :
Subrata Adhikary, a personality, attended the highest reach to the humanity and the world. His thinking and ideas spread over to every spahere in the Society. He has been awarded by a Certificate by the President of India.
He is an eminent practising Advocate in the Society and also general Secretary of ALL INDIA LAWYEAS FEDERATION. Subrata Adhicary is the Editor, Owner, publisher of two Newspapers one is "YODDHYA" and another is " SAMBAD ANUSANDHAN".
He is also General Secretary of ALL BENGAL EDITORS AND JOURNALISTS-ASSOCIATION. The Governor of West Bengal pleased to meet with him and his team for the purpose of Society. Said personality is a Poet, writer, Educationist, Critic, associated with Group theatre and Drama. Apart from that he has involved with the travel agency. N.G.O. Real Estate, Advertising agency dealings.
At least one thousand Newspapers, Little Magazines are associated with ALL BENGAL EDITORS AND JOURNALISTS ASSOCIATION.
TAPASEE ADHIKARY :
Sea and Sun within reach a lady of Universe TAPASEE ADHIKARY. A Memorial humanity left the world on 3 rd May, 2010. She is a lady of Affection and eminent Journalist and writer with her wide knowledge of human character. The people of world got seveare fair in their mind for the absence of Tapasee Adhikary . Subrata Adhikary the husband of deseased. Tapasee Adhikary is still waiting for fare his loveable wife with the sea and the sun.
ABOUT US | SERVICES | FEEDBACK | CONTACT US | E-MAIL
Copyright (c) calcuttayellowpages.com (P) Ltd