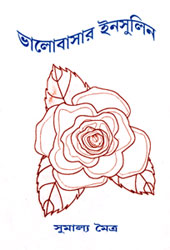 Sumalya Maitra is a young natural talented modern Bengali poet. In his age, he has already established his uniqueness by his writing contributions. The every line of his created poems itself has the heart striking element. He has the every potential to be a great poet of Bengali Literature. He has the another owners to create short poems of 4-5 lines which are very much themeful & sensitive.
Sumalya Maitra was born on 11th October, 1981 at Madhyamgram Choumatha of 24 Pgs(N) of West Bengal in a very cultural based family. His fore-fathers were culturally very much renowned in Indian history. Every line of his Poem has dedicated to his beloved uncle Late Subhash Maitra who was a short story writer and assistant editor of the 'Basumati'. His parents mother (Smt. Subhra Maitra) & father (Sr. Susanta Kumar Maitra) both are literary lovers. He always gets enormous inspirations from his elder brother Sri Samrat Maitra who is a teacher in Sadhanpur Uludanga Tulsiram High School (H. S.).
A poet of only 27 years old, has already passed his poetry life of over Eleven years. His first poetry, named "Samudra Sabar Janyo Noi" has been published on the magazine "Aajkaal Parshu". His poems are regularly published in various literary magazines like – 'Bonakujan', 'Sahitya Rong Be Rong', 'Aaj Kaal Parshu' etc. His first poetry book, "Bhalabasar Insuline" has been published by emotional help of his friend, Sri Deb Dutta and his elder brother, Sri Samrat Maitra. As a poet, he has gained lots of appreciation from many cultural or literary organizations.