About Me
: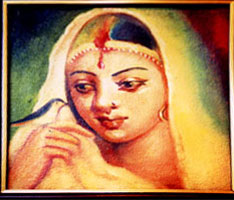 Born & brought up in Barrackpore, Kolkata.

Attended & completed B.A. from Calcutta University with honorable B.T. degree in addition. Achieved diploma in Fine Arts from Govt. Art College in 1972 & honorable degree from Indian Art College in 1976.

Awarded from various exhibitions. Participated in Academy of Fine Arts in 1976, 1985, 2003, 2006 & 2008, Airports in India & abroad in 1994. Participated in Chemould Art Gallery in 2006, New South B Gallery in 2007, Birla Academy in 2008 and many more.
She had to hurdle over almost insurmountable obstacles in life. At present she is the teacher as well as guide of Barrackpore Art Centre, Ichhapore Art Centre & Sishuangan, Barrackpore.
Apart from these activities she is one of the advisors of Addya Benaras Sangit Kala Samity.
---
ABOUT US | SERVICES | FEEDBACK | CONTACT US | E-MAIL
Copyright (c) calcuttayellowpages.com (P) Ltd