Date of birth : 25th March, 1944

Exhibitions :
· National Exhibition of Arts, Lalit Kala Academy, New Delhi in 1987
· Annual Fine arts Exhibition, Birla Academy in 1988, 1989, 1990, and 1991
· Annual All India Fine Arts Exhibition, Academy of Fine Arts, Kolkata in
1985, 1987, 1988, 1989, 1990, 1991, 1992 and 1993.

Collections :
In private collections of various art collectors.

My grooming was never towards becoming a painter. But that phase of my life imbibed me with enough teachings to see life from different angle. I have seen life in its primitive form and have painted my impression in my paintings.

After learning basic painting techniques in informal way, I started doing experiments in my own way. Refining and refining the experiments, I found my own technique and happiness.

My paintings show the scenes I experienced in my life, though not in exact forms.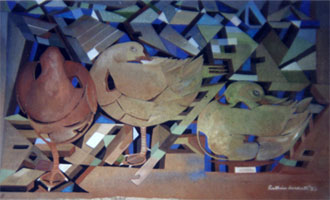 My works ooze out real life colors as they come from my heart and not mere imagination. Every brick or piece of plaster or leaf blade in the dilapidated houses. I drew have the history to talk about though the future is evidently bleak. The cat sleeping with dream of a fishy lunch also has a story to tell. The duck, with broken form tells us about the fragileness of its life. This way, each and every work is a piece of my soul and mind.