Dr. Saroj Mohon Mitra is one of the leading literary personality of Bengali Litarature. He was born on 1st june,1927 at Nokhali of Bangla desh. His father was late Ramani Mohon Mitra and mother was late Subhasini Mitra. He had started his education from the village Pathsala (Pimary School). He had passed the Matric examination from Kolyan school which was founded by his elder brother, an imprisoned political leader. After 2nd World War, he had joined the historical 1942's movement of Indian freedom as the volunteer. Then he joined the communist Party and had given the leadership for the student movement and cultural movement. He started his teaching as a professor of Rengun college, then he had taught in Surendranath evening college and Sree Chaitanya college. He had achived the Ph.D. degree from Rabindra Bharati University and the D.litt degree from Calcutta University. He is the research guide of Bengali department of Calcutta and Jadavpur University. Achieved the Ph.D degree. His research book on many subjects published. He is the vice-president of Ram Mohon Smriti Swatwa Sangrakshon samiti, Hoogly Zilla Parishad. He has a natural organizing capability, where he stayed, created organization there. When he was the Central Govt. employee in Delhi, There he had founded Yong Bengal Association. He had built a school in his own village at West Bengal. He was the editor of Bangiya Sahitya Parishad patrika for five years and the President of Indo-China Friendship Association (West Bengal). He attended the International Brecht Seminar in Berlin. He led the cultural delegation in China. He was the President of Ram Mohon Library. He had participated on various literary, Cultural & Drama Seminars/ meeting. He was the founder vice President of Paschim Banga Gana tantrik lekhak, Silpi Sangha and now the advisor.. He is attached with many literary magazines,. He is a very leading personality for Drama movement. His identical characteristic is that he is a Marxist writer. In 1999, he had achieved the "Bana Phool Contenary Award". He gained the "Sarat Research Award in 2003. He was the president of Banga Sahitya Sammelon (58th Annual Sammelon), Purulia (2003), Amrita Pur (2nd & 3rd ) in 2004. He was the ex-member of Roads Naming Advisory Committee of Kolkata Municipal Corporation. He is the council member of Paschim Banga Bangla Akademy. He was the vice President of Banga Sahitya Sammelon, founded on 1905. He was the president of veteran Praktani (ExStudents)of Bengali Department of Calcutta University. He is a critic, researcher, a writer, a Drama critic etc.
Some of his owned published books (with publishers name) :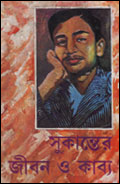 Bangla Galpo O Choto Galpo.- Tulsi Prakashan (got Ph D degree)
Manik Bandyopadhyayer Jibon O Sahitya. Deys' Publishing ( D.Litt Degree)
Sukantar Jeevan O Kabya –Deys' publishing
Sarat Sahitye Samaj Chetana – Granthalaya
Rabindrranath O Chin – Rabindra Bharati University
Banaphool:Sahitya O Jibon – Granthalaya
Natunn Aloke Saratchandra –Tulsi prakasan
Chalaman Chin – Nabajatak.
Bangla Theatre Sisir Kumar –Biswagan.
Brehater Jibon O Theatre –The General Books.
Tara Sankar: Byekti Manush O Sristi. – Granthalaya
Himalayer Pathe Prante – Granthalaya
6 No Ward(Chekhav) (Translation).
Manik bandyopadhya –Sahitya Academy, New Delhi.(Translated in all Indian Languages)
Amar Jibon –Rudra Bina Prakasana.
Bangla Sahityer Sankhipta Parichoy – Granthalaya.
Manik Bandyopadhyay Bangiya Sahitya Parisad.
Katha Sahitye Manik –Putul Nacher Itikatha 2nd edition –Pragna Bikash
Jiboner Joy Gaan _ Punthi Patra
Shata Barshe Nazrul – Biswakosh Parishad.
Aparajeya Raja Ram Mohan (Ram Mohan Library)
Manik Bandyopadhyay O Padma Nadir Majhi – Grantha Bikash.
Bangla Ekanko Natak – Ghosh & Co
Rabindrauttar Choto Galpo Samiksha – Grantha Bikash, Bama.
Agrasar Chintanayak Rabindranath – Mondal Publishing Home
Banaphooler Choto Galpo –Pragna Bikash
Utpal Dutter Natak Angar & Tiner Taloar - Pragna Bikash
Rabindra Upanyas - Chaturanga & Sasher Kabita - Pragna Bikash
Sahitya Jignasa - Anjali Publishers.
Shatabarshe Manik Bandyopadhyay - Pragna Bikash
Pather Dabi –Anjali Publishers.
Bharat Sanskarak Ram Mohan - Anjali Publishers.
Undaunted Raja Ram Mohan-in print.
His Edited Published books :
Manik Granthabali – 13 Vols – Granthalaya
Banaphool Rachanabali – 24 Vols – Granthalaya
Banaphooler Galpo Samagra – 4 Vols – Granthalaya
Ekanko Natoker Rup Rekha – Pustak Bipani
Tagore Memorial Special Supliment – C.M.C
The Golden Book of Rammohon – Rammohon Library.
The Last days of Rammohon - Rammohon Library
India Before & after the Mutiny. Sri.P.C. Roy - Rammohon Library
Premendra Mitra Samagra Kabita (2nd Edition) - Granthalaya
Manik Bondopadhyayer Uttarkaler Galpo Samagra – National Book Agency
Manik Rachana Samagra (11 Parts) – Bangla Akademy
Ababahikar Golpo – Prantik Prakashani
Srikanta – Pally Samaj – Sarat Chandra Chattapadhyay – Granthalaya
Kapal Kundala – Indian Associated
Ekaler Choto Golpo Sankalan – Calcutta University
Ekaler Samalochona Sanchayan – Calcutta University
Smaraniya Rammohon - Rammohon Library
Rammohon Rachona Samagra - Rammohon Library
Collected works of Raja Rammohon Roy, Vol-1 - Rammohon Library
Ekaler Choto Golpo – Prajna bikash
Bangla Choto Golpo Bichitra – Mone O Bislesane - Prajna bikash
He has manywriting contribution on different literary Papers, Magazines of Nationally and Internationally.