About Me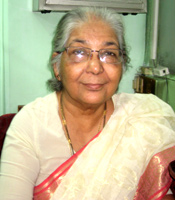 Dr. (Mrs.) Arati Basu (Sengupta) completed her B.Sc., M.B.B.S., D.G.O., M.D. (Cal) from Kolakta. After that she is practicing for last 35 years in Kolkata. She is a senior consultant Gyanaecologist & Obstetrician.

She is the past president of The Bengal Obstetric & Gynaecological Society and Centre for Care of Torture Victims. Also she is past Secretary / National Correspondent Secretary of Association of Medical Women in India and Ex – Chairperson of Women DOCTORS Wing, I.M.A., W.B. State Branch. Presently she is a member of Court, Jadavpur University, Kolkata.

Dr. (Mrs.) Arati Basu (Sengupta) is not only a very good doctor but also a very good friend for patients. She contains a motherly attitude to patient and very down to earth and good human being. She is a great doctor and above all she has a motherly, friendly attitude to the patient, which is very useful to boost up the mental condition of patient.
Chambers :

• 85, Rashbehari Avenue, Kolkata-26
(Near Deshapriya Park), Phone : 2464 0434
Time : 5.00 to 7.00 p.m. (Except Sundays)
• Wellness Centre
55, Gariahut Road, Kolkata - 700 019
Beside Frank Ross Pharmancy (Ballygunge Phari Crossing)
Ph. : 033 - 6455 0333
Time : 3p.m. to 5 p.m. (Monday, Thursday)
• N. G. Medicare,
123A, Rashbehari Avenue
(opp. Triangular Park), Kolkata-700 029
Ph : 2464 0230, M : 9332427283 (Tuesday 11 a.m. to 1 p.m.)
• 82/1, Ibrahimpur Road,
Jadavpur, opp - Supermarket, Kolkata-700032
Ph.: 2412 3258, (By Appointment only-9831031477
Time : 9.00 a.m. to 7.00 p.m)
(Mon., Wed. & Friday - 7.30p.m to 09.00 p.m)