Oceanic Palmistry :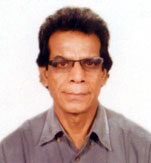 Oceanic Astrology is an ancient strain of astrology, practiced from the Vedic era. Combination of the modern scientific as well as the Oceanic strain is used by astrologer Lakshmi Narayan Goswami.
The hands of a man to him or her is greatest gift of life. Men of any religion pray and work through these hands only. These benevolent hands decide his of her past, present and permanent remedy can be applied.
For quick and effective remedy of any issue problem. Related to career service, job, business, marriage, law-suite, place at home and vastu take advice of oceanic astrologer Lakshmi Narayan Goswami.
Visiting Hour : 7p.m. 9.30p.m.
Sunday – 10 a.m. to 2 p.m.
Please take prior Appointment before visit from the No. 09903366532 / 09433216177
If you are frustrated with present astrological advisor, then please contact Mr. Goswami at the earliest for Immediate remedy.