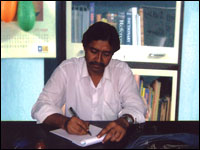 Father's Name : Late Jitendra Nath Mondal
Mother's Name : Hemlata Mondal
Date of Birth : 3rd day of February, 1959
Place of Birth : Hasnabad, Basirhat Sub-Division, 24 Parganas (North)
Occupation : Govt. Service at Food & Supplies Department (W.B.)

Published Books :
Adhisthan Bhumi (1994)
Beje Otho Snayau Setar (1997)
Uddan (2002)
Chander Ghari (2005)
Magic Series (2009)
Received Awards :
Rupkatha Sahitya Award
Nabiner Swapna Award
Suprabhat Sahitya Award
1st Prize In Composing Bengali Poetry 1995
Sakti Chattapadhya Memorial Poetry Award – 2005
Rishi Bankim Smarak Samman 2008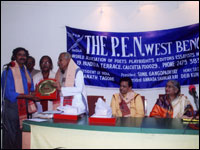 Writings to the Various Little Magazines :
Desh, Sananda, Kabi Sammelan ,Shaptahik Bartaman.
Little Mag :
Swadesh, Sundar, Banani, Shabda, Krittibas, Tehai, Kabimon, Prio Silpa, Kabikrit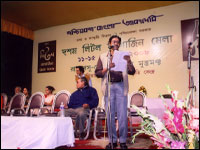 i, Dauti, Kabi Patra, Chandra Mas, Prachha, etc.

Edited Magazine :
Editor Of Chena Mukh Achena Alo, Associate Editor of Banani, Sundar and Shabdo.
** I started my writings (Mainly Poetry 2ndly Bengali Short Stories, Rhymes, and essays) since early Nineties.