Educational Posts Held -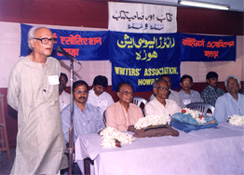 1. Assistant Teacher at Howrah Muslim High School,
45, Bellilious Rd. Howrah-1 (from 1st March, 1957 to 15th April, 1968)
2. Assistant Teacher at C. M. O. High School,
11, Peter Lane, Kolkata-73 (from 16th April 1968 to 30th April, 1996)
3. Part-time Lecturer in Urdu at Kidderpore College (Evening Section)
Kidderpore, Kolkata - 29, (from 17th August, 1970 to 30th September, 1970)
4. Part-time Lecturer in Urdu at Kidderpore College
(from 3rd-March, 1979 to 30th June, 1996)
5. Whole-time Lecturer in Urdu at Kidderpore College
(from 1st July, 1979 to 31st December, 1979)
6. Guest Lecturer, Deptt. of Urdu, Calcutta University
College St. Kolkata (from 24th April, 1989 to 30th March, 2001)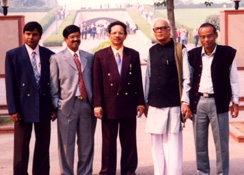 Journalistic Service -
1. Sub Editor (Part-time-Night Shift), 'AZAD HIND' (Urdu Daily) (from 1961 to 1969)
2. Editor (Hony.), 'HOWRAH TIMES' (fortnightly) During 1970-71
Administrative Post (Hony.) -
Vice - Chairman, West Bengal Urdu Academy
Minorities' Development & Welfare Dept. Govt, of West Bengal,
(from 24th May, 2002 to 31st August 2005)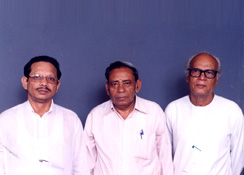 Retirement - Retired as Asst. Teacher from C. M. O. High School, Kolkata in 1996
Literary Activities -
(a) I have been contributing my poems, short stories critical articles and literary reviews to all leading Urdu journals since 1951.
(b) I founded in 1966, in Howrah, a tri-lingual literary orga­nization, WRITERS' ASSOCIATION, which is continuously serving as a unique platform for writers in Urdu, Hindi & Bengali.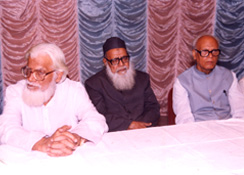 Published Literary Books -
(i) 'Sa'aton Ka Samandar' (collection of self-composed poems) 1971
(ii) 'Tridhara' (a collection of self-composed poems in Hindi Script) 1996
(iii) 'Saans Ki Dhaar' (a collection of self-composed Ghazals) 1997
(iv) 'Pahaar Kaat-tay Huay' (a collection of self-composed poems) 1998
(v) 'Dhund Aur Kiran' (Shams Sabri's short-stories compiled & edited by me) 1973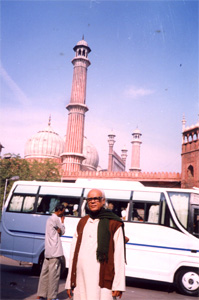 Other Books (Published) - About a dozen Text Books in Urdu for School Students.
Awards & Honours -
(i) Abdur Razzaque Malihabadi Award from West Bengal Urdu Academy in 1996
(ii) Sneha Lata Roy Chowdhury Medal from Abhinav Agrani (Bengali Magazine) in 1996
(iii) Silver Jubilee Honour from Bharatiya Bhasha Parishad Kolkata in 1999
(iv) Ph. D. on my life (Dr. Nasir Ali Ansari carried research work, and obtained Ph. D. degree from Bihar University on my life and literary work in 1999)
(v) Reception Accorded to me by Urdu Press Club, Delhi in 2004 at Urdu Ghar, Delhi.
(vi) 'Dastkhat' (Quarterly) published 'Qaiser Shameem Number' in 2005 and 'Mizgan' (Quarterly) its 'Gosha' (Special pages) on me in 2004.
(vii) Poet & journalist, attached with UNI (Delhi), Mr. Ash'har Hashmi, published his book "DAYA SAGAR VIDYA SAGAR" on me in 2005.