About Him :
There is a saying that if life gives a lemon make a lemonade Mr. Somen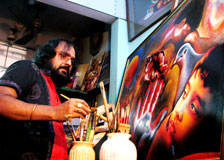 ath Choudhury's indomitable will was not cowed down when he started though polio made him to suffer right from the tender age of eight. His affair with the brush started under the guidance of his father and there after by Shri Sudhir Chandra Pal. He learnt the realistic work in Ray.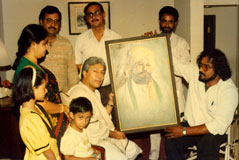 After a chance to meet Shri Ganesh Pyne in a college restaurant and his words of encouragement, made Somenath Choudhury to never look back, with humble beginning as a designer of book covers and banners, he came to limelight when he painted the pavilion for AICC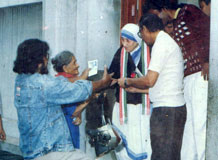 in 1982. This was appreciated by the former Prime Minister Mrs. Indira Gandhi. He later painted her portrait which highly impressed her. He also painted portraits of Shri Jawaharlal Nehru & Shri Rajiv Gandhi. Many eminent public personalities have had their portraits painted by artist Somenath Chowdhury.
Mr. Somenath Chowdhury's dream project was "Tulika" Art & Culture School for children where he imparts the sense of art to children.
Mr. Somenath Chowdhury's work of arts like Ganesh Munda, Ramayana has earned lots of fame together with his other works which were bought by art collections in Switzerland & America.
His Works :
ABOUT US | SERVICES | FEEDBACK | CONTACT US | E-MAIL
Copyright (c) calcuttayellowpages.com (P) Ltd