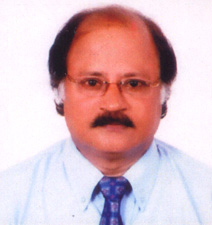 Though a businessman I take keen interest in writing and reading. I have started writing all on a sudden. The breaking year is 2005-2006; I was initiated in writing by the instigation and inspiration of some of my friends. Now I find a lot interest in writing. Mainly story writing is my passion. I cannot deny the role of my maternal uncle martyr of the Indian Independence – Sahid Prodyot Bhattacharya who was hanged to death by the British Government in the year 1933 for an attempt to kill Mr. Doglas the dangerous the then Dist. Magistrate of undivided Midnapore dist. His lifestyle has played a vital role to encourage me in writing short stories, poetries, anugalpo, features etc. Beside that while I was in service at my younger age Ihad to come in contact with varied of personalities which appear as character in mywriting.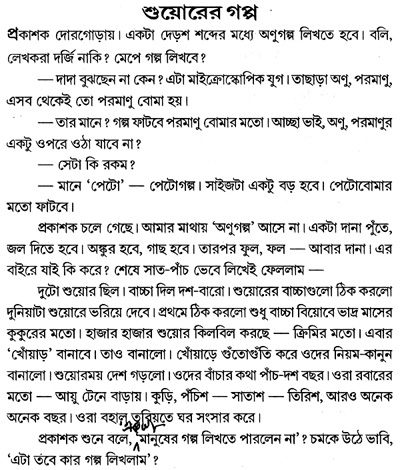 List of Production –
Aaj Mahesh O Amina (2006)
Rode Jafri (Anu Galpa Sankalan - 2008)
Sataire – Biswayan Maiki Joy (2008)
Flying Sasar O Eai Smayer Galpo (Galpo Sankalan, 2008)
Korak [1st Novel] 2009
Mainly I go on writing for the little Magazines.

Prataham Anugalpo
Some of the important little Magazines can be mentioned –
Aratrik
Aajker Esa
Alo
Galpa Guchha
Jhoro Hawa
Dana
Sahitya Darpan
Coffee House
Ekhane Roddur
Iscra
Mohas
AMRITALOK
Anubhab
Galpanu
Alpa Kathayr Galpo, parichay
Apart from this – all leading newspapers such as Bartaman, Pratidin, Dainik Stateman, Ganashakti, Thathyakendra, Uttar Banga Sambad has published my stories and features.
Prize -
2nd prize for best story by Alo Patrika, for the story titled – Matsyakanya, in the year 2008.
Adjudged best story book for the year 2010 & awarded "Panchyajanya" puraskar for the book – titled – Aaj Mahesh O Amina.
Adjudged best story writer by Mohan. An all Bengal Competition was held, the award to be given on 20th April 2010 at Bangla Academy Savaghar.
Short Story Prize awarded b7 Aajker Esha – 2006. Diversified activities – Drama & Acting Acted in TV Serials to films also.