About Her
She was born in 1st august 1958. Father Shri Hiranmay Sarkar, Mother Smt. Parul Sarkar & Husband Shri Pradyat Narayan Dutta. She Graduated from Calcutta University in Bengali Honours & did M.A. form Jadavpur University in Bengali Literature.
She is a regular writer of Little Magazine like Kabita Simanto, Natun Goti, Iche Kusum, Din Japan, Jhoro Haoya, Writi, Kahan, Onopekha, Aratrik, Charchapad, Lekhaoala, Akhon Roddur, Daybo Bharati, Mohor etc.
She has been acclaimed as "Geet Bharoti" in Rabindra Sangeet by Geeta Bitan.
Her associations are with the following organization Sahitayaka, Behala Sahitya Sansad, Ganotantik Lekhok Shilpi Sangothan, Suryasen Bhawan, Biplob Tirtho Organisation.

Her other contribution in poetry in Kabita Samay Monushyatra. Presently she is a president of "Swapnanil Swimming Club".
Gallery
Poem's

[click for large view]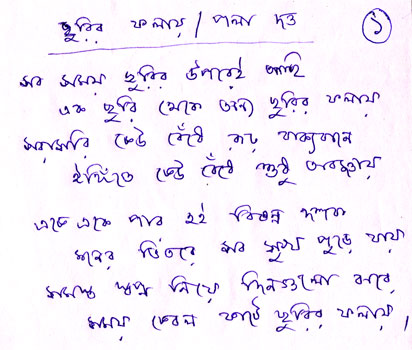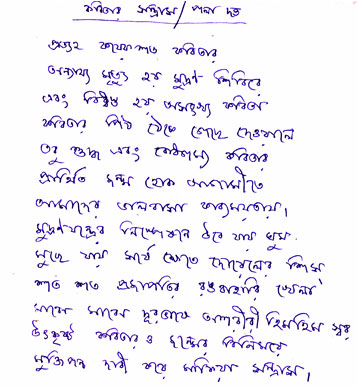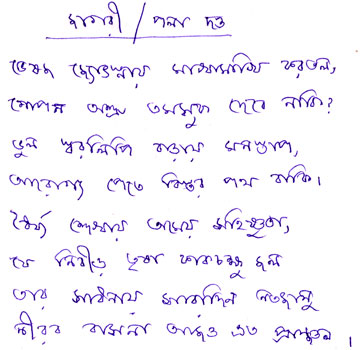 ABOUT US | SERVICES | FEEDBACK | CONTACT US | E-MAIL
Copyright (c) calcuttayellowpages.com (P) Ltd