Jai Mata Di Properties is a well known name in Realty Market for over 2 decades. Jai Mata Di Properties which is owned and carried forward by Mr. Anuj Mot and Mr. Sachin Mot, can provide you with the best in realty solutions, whether it be buying, selling, renting or anything to do with realty.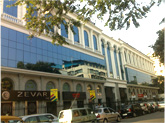 Jai Mata Di Properties have got an experienced team, who helps to select the right kind of property, the legal aspects and the technical details with the purchase process.
Our approach begins with a clear understanding of the client's needs, objectives and budget. Our services are always closely matched with your requirements.
Jai Mata Di Properties has got the superior advantage of working with all reputed Builders in and around Kolkata, Delhi, Jaipur, Bhubaneshwar, Guwahati etc.