Profile: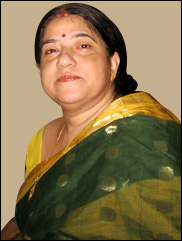 • Trainings:
Disciple of famous music director Late Anil Bagchi, Dr. Amiya Ranjan Banerjee, late Pt.Sukumar Mitra, late Srimoti Sipra Bose, Late Biman Mukhopadhyay.And attended workshop organized by rajya sangeet academy on thumri.

• Achievement:

Dinendra Puraskar for Rabindra sangeet in the year 1979.
And also awarded in various competition in school level, all Bengal music competition(organized by saptak).
Regular Artist of AIR In Nazrul Giti bhagan.


• Performance :
• In kolkata performed in various stage shows like in Sisir mancha, RabindraSadan, Uttam Mancha, Madhusudan Mancha and also in the okakura bhaban.

• In delhi performed in India Habitat Centre.
Photogallery: