First Step, an internationally inspired dance company which has in last few years trained 1000 students in Western Dance in New Delhi is now proud to announce his classes in Kolkata, Dhanbad, Raniganj, Asansol and Lucknow to conduct western dance classes & short workshops. It classes would be conducted by its certified senior faculty members who have been thoroughly trained by its panel of international choreographers.
First Step Company of Dance Philosophy
We do not expect every student to pursue a career in the dance, but believe that sound training in the dance gives pupil's valuable skills and experience they can apply to every aspect of their lives regardless of what they choose as a career. The overall health and happiness of our students is always our paramount concern. Our continual goal is to give a rich experience of the dance techniques to all students, and to provide the professional training required by those who wish to pursue career as performers, choreographer's and/ or instructors. We intend that lessons of different schools.
Financial Support for Recreational and Intensive Programs
Students demonstrating excellence in effort, attendance and/or achievement are eligible to receive certificate and great offers; those who wish to pursue a career in dance can, by audition and interview, enter our performance training company, with concentration in performance or instruction, and benefit from a fee-ceiling which can provide a substantial subsidy to tuition.
Our Administration and Management
Our institute's dedicated management and administrative support helps company to establish a good relation between the management and the clients (student's guardians and the franchisee).
First Step Administration
Armaan Khan, Bindiya kainth and a group of dedicated workers administrate the first step.
The office hours correspond to the class schedule and are as follows: Tuesday to Saturday 10.00 a.m. to 6.00 p.m and Sunday 10.00 a.m to 1.00 p.m.
Administration's e-mail is first_step06@rediffmail.com.
Multiple course/Family Discount packages are available.
First Step studios may be rented for rehearsals, classes, photography sessions and other creative pursuits and special events.
Details about the Regular Classes :
Syllabus for Dance Classes : Jazz, Salsa, Street Jazz, Funk & Rock Jazz will be taught with utmost care. There will be 2 classes of 1 hour each every week & there will be 2 semesters of 6 months each every year. At the end of each semester an exam will be conducted and the students would receive a performance report. The students would get a chance to perform in at least 1 glamorous show every year. Students desiring to continue after the first year can do so and progress to more advanced levels.
Activities at our center : Dance Movies, hang out, party will be arrange at frequent time.
Main Events: Dance competition, Video Shoot and Annual Show for the students will be arranged.
Dance aerobics: In these classes fat reduction techniques through the practice of a mix of dance & aerobics will be taught. Students will also be exposed to Pilates (muscle strengthening techniques), Gyrotronics (a technique to minimize injury) & a series of mind relaxation techniques.
Western Dance : Only one kind of music suited this generation-jazz, the vehicle for dancing the fox trot, shimmy, rag, Charleston, black bottom, and various other steps of the period. Jazz is a modern form of Ballet; it's a dance, which involves dancing all by oneself (not with partner). In the workshop the participants will learn the basic steps of Power Jazz, jazz combination, Hip-hop which is very modernized form of dance, which help to improve the personality and the dancing style of a dancer, and in the end the basic steps will be put together to produce a very stylish sequence which can be performed anywhere.

Salsa Dance : Salsa is not easily defined. The dances share many of the same moves. In Salsa, turns have become an important feature, so the overall look and feel are quite different from Mambo. Mambo moves generally forward and backward, whereas, Salsa has more of a side-to-side feel. These classes will include steps from various partner-dancing forms, which would be put together in the end to produce a very peppy sequence, which can be performed in various social occasions.Individuals and persons of the same sex can also register for the classes since partners for everyone would be arranged in the workshop & the steps would be such that even 2 partners of the same sex can dance them together.
Our Centers : Kolkata :- 4 centers
Dhanbad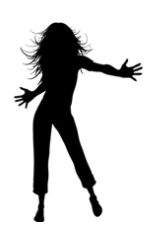 :- 7 centers
Raniganj :- 2 centers
Asansol :- 2 centers
More centers under expansion in major cities.
Toddlers (3 yrs to 6 yrs)
Kids (6 yrs to 11 yrs)
Teens (11 yrs and above)
Ladies (Dance Class)
Pilates and Dance Aerobics (only ladies)
Special Hip-Hop Classes