About Her:
A discerning critic once said about Sanchaita Chaudhuri that every performance of her turns out to be an enchanting experience for the music loving audience. A singer who constantly strives for perfection and has inborn talent in music can alone mesmerise the audience in all her performances. Her programme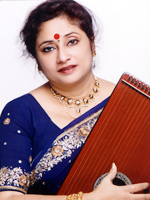 is frequently being broadcast on All India Radio/Doordarshan Kolkata, Delhi etc. which has designated her as a "A" Grade Artist and she has performed superbly in various programmes of All India radio including the Sunday Night Recital, the National Programme 2000 & 2009 and Akashvani Sangeet Sammelan in their golden Jubilee Year 2004. In 2009 she performed in the National Programme of Doordarshan. Sanchaita has been performing brilliantly in light classical including devotional songs like Shyama Sangeet. She has also been performing in various music conferences/ concerts organized by various reputed organizations throughout India & abroad.

Sanchaita has been a student of ITC sangeet research academy in Tollygunge Kolkata, under the guidance of her Late Guru Pandit A.Kanan and Late Bidushi Malabika Kanan of Kirara Gharana. Thereafter She received music lessons from Ustad Amir Khan's disciple Shree Kamal Banerjee. She also took guidance from Dr. Haricharan Varma, Pandit Sunil Mukherjee etc. Of Delhi during stay in Delhi.
Sanchaita has been a Student of ITC Sangeet Research Academy in Tollyvgunge, Kolkata. During her musical training period, Sanchaita has been approved as an "A" Grade Artist in Kheyal and "B" high in Thumri by All India Radio from 1994. She has also been a national Scholarship recipient from the Ministry of Human Resource Development, Government of India. Sanchaita is also an empanelled artist of Indian Council Cultural Relations (I.C.C.R) of Government of India.
Gallery:
Sodepur, Nadabrahmma Music Conference,
December 2008. (Sodepur Sangeet Sammaelan)

CD release by Honorable Shree Khiti Goswami,
Minister, Govt. of West Bengal in presence of Late Bidushi Malabika Kanan at Birla Sabhaghar ,
Kolkata - December 2007

CD release by Sarod Maestro
Pandit Buddhadev Dasgupta.

Sangeet Piyasi's Concert in Uttam Manch,
Kolkata June 2008.

Uttarpara Sangeet Chakra Sammelan

With Shree Tanmoy Bose & Shree Sanatan Goswami
at Birla Shabha Ghar ,Kolkata-December 2007
Awards:
Recipient of " Gaan- Shiromani" award from Navodit Kolkata Samity , Raj ghat , New Delhi in

2005

Recipient of "Sangeet Bhusan" award from "Society for Action'' through music in the year

2010

– "Pandit Gama Maharaj Smriti Samaraho
Recipient of National scholarship in Hindustan Classical from HRD Ministry of Government of India from

01.09. 1992

through

31

st August

1994
Press Review:
Contribution to the field of Music:
'Kanan Sangeet Kunj' -

Is a non- profiteering Cultural Organization dedicated to the cause of promoting Classical, Semi-Classical & other forms of traditional Indian Music, true active participation of member through regular house and other concert.



Guruparampara Classess taken by Smt. Sanchaita Chaudhuri.
Performed

SPIC MACAY

in B.E. College to encourage young generation towards Indian Classical Music.
She was invited as honorary guest / judge for popular music programme conducted in tv channel like Zee Network

"Sa re Ga Ma PA"

&

"Mummuy Ki Super Star"

in Star Plus & Income tax, Sports, and Recreation Club , in Kolkata
Recieves request from various Reality Shows to send her Students to perform at the programme & she does.

Inaugaration:
Inaugaration of my organization 'Kanan Sangeet Kunj' by Pandit Amiya
Ranjan Banerjee's recital in My Late Guruji's (Pandit A.T.Kanan)

Residence

Hindustani Classical Music Concert by my organisation

'kanan Sangeet kunj' in My Residence Hall

(CK-122, Sector - II,CK-122, Sector - II )

Hindustani Classical Music Concert by my organisation 'kanan Sangeet kunj' in My Residence Hall

(CK-122, Sector - II,CK-122, Sector - II )

Artist: Pandit Sohanlal Sharma
(from Kolkata)
Artist: Pandit Barun Kumar Paul
(from Delhi)

My Disciple is performing on Guruparampara in concert
by my organisation 'kanan Sangeet kunj'
Guruparampara:
Guruparampara is a Perfect Grooming Place for Bringing out the talents for a beginner/advanced student in Hindustan Classical Vocal Music.

Skill Development for:
Hindustan Classical (Vocal)
Voice Training with Light Classical Music (Bhajan Thumri)
Voice Training with Light music (Bengali songs)

Classes conducted by experienced Guru Smt. Sanchaita Chaudhuri, National Scholar All India Radio – A, Grade/ T.V Sangeet Research Academy, Kolkata, (Scholar) & Disciple of Late Pandit A. Kanan,Late Bidushi Malabika Kanan & Pandit Kamal Banerjee (Disciple of Ustad Amir Khan)

CDs And Cassettes:
| | | |
| --- | --- | --- |
| | | |
| | | Aochar Music From Canada |
| | | |
| | Evening Moods- Indian Classical Vocal | |
| | | |