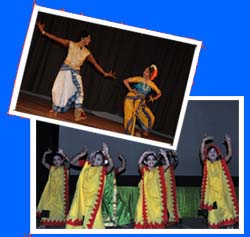 Rupa Bharati was established on the year 1976 under the guidance of Chief Justice of Calcutta High Court Late Mr.Sankar Prasad Mitra. This Institution started its Career at the Heritage House of North Kolkata known as Ram Chandra Bhavan at 120, Muktaram Babu Street , Kolkata-700 007.

Rupa Bharati has celebrated it's 35 years of its journey of classical dance. It has profound reputes in North Kolkata and its periphery.

The Organization is recognized by Rabindra Bharati University ( Govt. Of West Bengal), WBDGF & EZCC. Apart of Classical dance the organization also imparts training to the students in Music & also Painting.

Activities :
This Organization imparts training in the field of music, Dance & Painting.
It grooms the students for graduate & post graduate studies. Examination is held every year.
It makes the students eligible for stage performances as annual shows are held each year.

It also acts as a social bridge and brings people together in occasions such as picnic, parties, Bijoya Samilani etc.
It has a governing body which sits for regular meetings to set the rules and regulations. The students and guardians are also members of the governing body.
The Institution under the guidance of its principal Sm. Keka Chatterjee organizes, dance performances in various public Platforms & auditorium in different parts of West Bengal, even on invitation.

The Principal :

The principal of this institution Sm. Keka Chatterjee M.A Cal ( History) is a housewife, yet undoubtedly fought all the hazards in her way to devote herself with intense geal in teaching her students to successful careers in art and culture. She had host of students in her rolls who earned fame in the world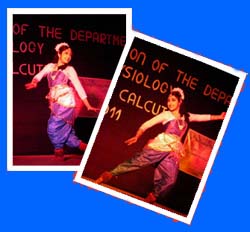 in culture. She received her trainings from Mani Sankar, Guru Gopal Pillai, Atinlal, Priti Chakraborty etc. She received many awards and recognitions as a classical Dancer. She even had the opportunity to perform in the President's House in front of the President Dr. Sarwapalli Radhakrishnan. Mrs Chatterjee continues her lifetime healthy job of uplifting Indian culture and heritage and win a crown of victory from the whole world.

We cater our children in the field of Dance and Specialise them in Bharatnatyam, creative, folk, Tagore Dance. They get the facility of Examination and public performances and compititions.

We are interested in invitation shows and to teach classical Dance to foreign Students.