"CHACHA'S HOTEL" – serving at your service for over 135 years.
The super speciality Multicuisine Restaurant in North Kolkata.
"CHACHA'S CATERING SERVICE"
Located conveniently at Bidhan Sarani and Vivekananda Road crossing, CHACHA'S HOTEL is a renowned food hub that has been catering to the gastronomic cravings of the city people for over a century.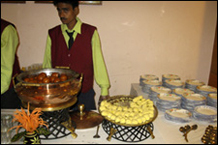 The history of the hotel dates back to the around 1875 when Late Gosaidas Patra purchased a tea-stall along with the plot, from a Muslim person, whom the local's would fondly call 'chacha'. It was then that CHACHA'S HOTEL started his journey. However, the hotel did not have any signboard at that time of its inception, so the local people would continue to refer to the new hotel as CHACHA'S HOTEL. The hotel had a humble menu of only fish-fries, fowl-cutlet, sheek kabaab. The fowl-cutlet, a unique innovation of the CHACHA'S HOTEL soon becomes a huge favorite of the customers. Prepared without the slightest touch of onion, garlic or ginger, the "FOWL-CUTLET" still remains to be popular item for food lovers. SHEEK KABAAB, too, was until then prepared out of beef. It was 'CHACHA'S HOTEL' that first started making "MUTTON SHEEK KABAAB" to the food-lovers' delight. The list of customers of this prestigious hotel that has a glorious heritage includes all and sun dry from the local people to such big names and stalwarts in different fields as Netaji Subhash Chandra Bose, Chhabi Biswas, Swami Vivekananda, Uttam Kumar, Mithun Chakraborty, Bappi Lahiri and others. The Hotel became quite popular over the years and it was therefore, gradually expanded and new items were constantly added to the existing menu.
At first, Chacha's Hotel was run by Late Ramdas Patra took over the charge. When Late Ramdas Patra passed away, his son Late Pradyut Kumar Patra took the charge. From him, now, the present owners Sri Gautam Kumar Patra and Sri Anuj Kumar Patra proudly and humbly looking after their hotel.
Today, Chacha's Hotel boasts of an interesting menu of over 200 items, ranging from Indian, Mughlai, Chinese, Tandoori to Thai delicacies prepared by well-trained and experienced cooks under the watchful eye / supervision of the present proprietors of the hotel, viz. Sri Gautam Kumar Patra and Sri Anuj Kumar Patra. Moreover, the Hotel has also been providing catering services to its customers for all occasions at an agreeable rate for more than three decades now. Along with the a-la-carte menu that you order for your occasion, "Chacha's Catering Services" arranges for you from Veg. / Chicken Phuchka to and Paan – Stall, or special salad counters to Ice Cream Parlour or anything that you can just think of! In a word, the unfaltering efforts' of the present owners of the Hotel are continuously aimed at providing best service to all its customers. Some of the most popular items of Chacha's are FOWL-CUTLET, MOMOS, FISH-FRY, MUTTON SHEEK KABAAB, CHINESE DISHES, CRAB DELICACIES, BABY NAAN, BIRIYANI, THAI DISHES, TANDOORI etc. Apart from accepting catering orders, Chacha's Hotel also offers now "GROUP ECONOMY PACKAGES" in their AIR CONDITIONED RESTAURANT for BIRTHDAY PARTY, MARRIAGE ANNIVERSARY, CORPORATE CONFERENCE or any type of social or family function. So, throw exclusive formal or informal parties on the Hotel and just relax! The Hotel has packages to suit all pockets. And when its time to bite, it would be the most memorable menu designed by the chefs of this "heritage hotel".
So, just go ahead and explore an entirely new world of finely prepared cuisine only at
"CHACHA'S HOTEL"
42, Bidhan Sarani, Kolkata – 700 006, West Bengal, India
Phone No. : +91-33-2241 2876 / 2219 6060
Mobile : 099038 43774 / 098360 36473 / 094330 33774
Contact Person : Mr. Gautam Patra
Partner : Mr. Anuj Kumar Patra