He was born in s musical family. His mother Smt maya Bhattacharya is a classical vocal music artist. In earlier stage at age of four he was inspired in vocal music by his mother.
The torch bearer in musical journey was his beloved and respected GURU Ramesh Chandra hazra (VANARAS) GHARANA .Prof Parimal Chakraborty , Porf Amitav Guhathakurata,Who inspired him a lot of in this field .There after that he developed his TALIM of TABLA with different GHARANAS.
His Excellency in respect of TABLA becomes high with the blessing of legendary GURU PANDIT Swapan Chaudhuy and PANDIT Aninda Chatterjee.
In his Musical career he used to gates many prizes, Recognition, Certificates of many Famous art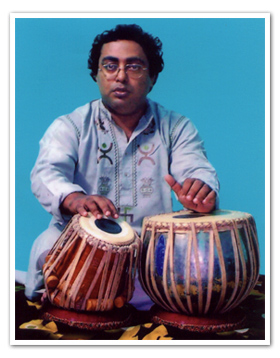 ies like PANDIT Tarun Bhattacharya, PANDIT Aninda Chatterjee and PANDIT Mohanlal Mishra, He got "SANGEET PRABHAKAR" title for PRACHIN KALA KENDRA Chandigrah ."SHILPAGUNEE" title from Sanakrit vikas Kendra.
He also gate GOLDEN Award in TABLA from Bharatiya Sangeet academy.
He awarded abbreviation certificate from Westbangal State music academy, In the year 2008 he gate "SANGEET BHUSHAN" award from UTCAL YUVA SANSKRUTIK SANGHA ( corporate body of UNESCO).In this year 2009 he gats JUNIAR NATIONAL FELLOWSHIP "TABLA" Ministry of culture New Delhi (GOV OF INDIA ) .
He accompanied with many famous artistes such PANDIT Tarun Bhattacharya, PANDIT Dinonath Mishra, PANDIT Santanu Benarjee, PANDIT Chitras Das, and SUSRI Nila Vagwat Etc.
He also performed Traditional TABLA SOLO and accompaniment to classical/instrument in deferent parts of India, like MUMBAI, VANARAS, PUNA, DELHI Etc.
In the year 1998 he established TABLA ACADAMY (Gov Reg) In Barrackpur West bengol .With intention to work basically amongst the middle and lower class families.
Many student grownup and started their musical careers through the TABLA ACADAMY. Workshop, Seminars, with musical concert etc, is regularly at held in Tabla academy.
In the year 2006 his name was published in the Dailies Anandabazar patrika, The Statesman, and The Telegraph for his per Excellence performance in Indian classical program held in Birla academy at Kolkta, and just after two years his name was also published The Daily INDIAN EXPRESS in Real Page 3 Column dated 15th June 2008.
In respect of his talents shown as TABLA Artist and his keen interest was found in popularizing TABLA playing as musical instrument and in the form of accompaniment to classical VOCAL Music and other musical instruments .He is making his best efforts to profess the teaching of TABLA amongst the lower and middle class family.

There after A.N.I published in Website media on 26th June 2008 regarding his excellent performance in development and research work in TABLA by means of "SOUND WAVE" or rhythm of TABLA as an aid to treatment for several diseases like blood pressure and mental stress.
There are so many website news Medias collected the above matters from ANI and published same in their own wave site, the name of which are as follows. www.spicezee.com , www.dailyindia.com, www.newstracksindia.com .www.andhranews.net, www.webindia.com,www.medindia.com .www.yahoonews.com.