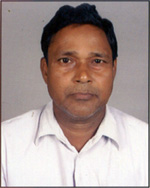 A City surrounded by sand dunes in heart of the "Thar Desert" can offer only hostile climate and crispiness in the form of sand particles. There, a man visualized creating something new, which can make Bapi popular the world over. This new thing has inheritance of crispiness, that adds to its splendor. Today, Sree Durga Food Product is a household name wherever Bhujia and namkeen are used. First inventor and now the pioneer - Sree Durga Food Products has achieved this position just because of its quality, hard work, workmanship and a zeal to provide its customer the best of breed of in the field of eatables.

The group has three manufacturing units in Sree Durga Food Products with varied prospects at each unit. These units are located at different places in kolkata.



' WHY THE PRODUCTS OF BAPI CHANACHUR IS FAMOUS ALL OVER'

The group's philosophy is the quality, not quantity. The main emphasis of the group is to maintain high standard of its products. The group also maintains strict quality control right from procurement of raw material to its finished products. This has yielded great results for the group.

As of today, the group's products cherish excellent brand image in the country.

The new unit employed latest machineries and adopted Flexible Packaging for its products for longer life and safe transportation to other states. The groups products are now available all over India.