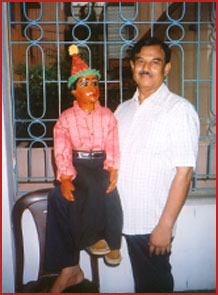 Mr. Sunil Adak is an established name in the world of theatre and mimicry. His talents as a mimic artist was seen in plays like Sadanand Ghatkali (Birendra krishna bhadra), Bedini (Samaresh Ghosh), Pusphakit (Jagannath Bose), Punniya Bala (Asish Giri),
He had also participated in the popular radio programme like drama division : Sishu Mahal, Galpo Dadur Ashor, Bigyan Bichitra, Chhutir Ghanta,

Since 1970 started his mimic guru Rabin Bhattacharya.

His performance was Chandi Lihiri exhibited in films like : Kalobilli, Punor Misiko Bhabo, The Biggest Egg, Under The Blue Moon, Pragitihas, Yashmin, Kolkatar Durgoti, Tapan Sinha's popular children film Safed Haathi, Raja Sen's Dumu,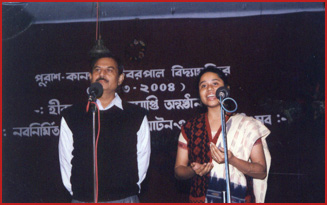 His involvement in puppetry was since 1975 and he performed under the banner ofCalcutta Puppet Theatre Padmashri Suresh Dutta. The performances include
Ajabdesh, Sita, Memna, Kalohira and others,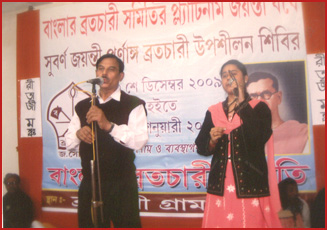 His overseas performance was very well appreciated by the foreign audience In Bangladesh, Pakistan, Yogoslavia, Poland, Russia,
He also acted in Jatra in Ser Afgaan organized by new Provas Opera and Ami Tarzan by Tarun Opera.
Since 1981 he featured in various TV Serials namely
Hattimater Pala, Siyol Bhaya, Odi Tels, Ratnadeep, Kakchoritro, Purosottam Sri Chaitanya, Hasteymana, Valobasa Valobasa, Baghar Chakri, Tithir Atithi, Pakhider Alifaya, Galpo Boli Galpo Shuni,