About Us
FBC THERMIC FLUID HEATER
HORSE SHOE FURNACE THERMIC FLUID HEATER (NO INDIAN MANUFACTURERS HAS MADE THIS UP TILL NOW) MOST SUITABLE FOR PLY BOARD MANUFACTURERS
RETROFIT OF BOILER (SAVE UPTO 40% FUELBILL)
FBC AIR & WATER HEATER
MATERIAL HANDLING EQUIPMENTS
OPERATION MAINTENANCE CONTRACT OF BOILER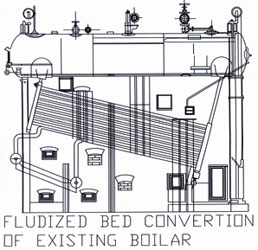 We introduce ourselves as one of the Designer, Manufacturer, Fabricator, of the following Items as mentioned below.
1) We are expert to Designing, Fabricate, Erection of Thermic Fluid Heating system with the latest technology, FBC Technology, Heating Media with Agro waste(Husk), Coal , Lignite , wood . It saves running cost.
ANOTHER SYSTEM IS HORSE SHOE FURNACE WHICH HAVE ALMOST NO SMOKE , ACTUALLY WOOD CHIPS HAVE HUGE RESIN SO TOO MUCH UN BURNT CARBON GO THROUGH CHIMNEY THERE FORE NO COSTLY POLLUTION CONTROL DIVICE REQUIRED.
2) Retrofit of Boiler (Change of Fuel FBC Furnace)
3) FBC Hot Air Generator, by fuel fired like Coal dust, Husk, Wood, Saw Dust, or any other Agro waste.

SALIENT FEATURES

Four pass solid fuel fired Automatic HORSE SHOE Thermic Fluid Heater

four pass design ensure better heat utilization & Ash separation.

horse shoe furnace Combustion furnace design, very high Thermal Efficiency of 80% + - 2% can be achieved.

Its achieving 99% burning efficiency by correct air fuel ratio & correct ignition temperature occurs where volatile materials can take proper air &fuel mixture and make a full combustion system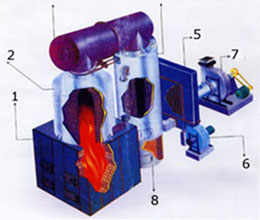 Automatic Mechanized screw fuel feeding makes DUST fuel, feeding OFF & ON when set temperature is achieved & reduced, respectively.

Micro Processor Based V/F fuel feed drive is used to adjust the rate of fuel feeding as per Plant load requirement,

Most of the Solid Fuels. Including Crushed Coal/Lignite/Agro waste/DOC/Saw Dust Can be used in this system.

large size Air Pre-Heater reduces dry flue gas losses and improves the Waste Heat Recovery and increases combustion Air Temperature.

Radiant Coil, installed directly on FBC Furnace makes maximum utilization of furnace radiation heat.

Mechanical Dust Collector arrests the fly Ash from Flue gas, before exhausting to Chimney,

Ash collection pit is provided below convective coils.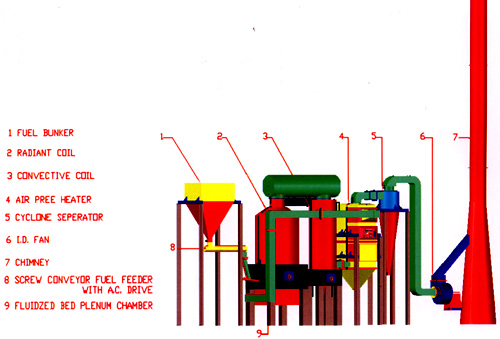 Our Product
ABOUT US | SERVICES | FEEDBACK | CONTACT US | E-MAIL
Copyright (c) calcuttayellowpages.com (P) Ltd