2010

1) AMEC starts off in October 2010 with the vision of imparting International Standard Music Education in Eastern India.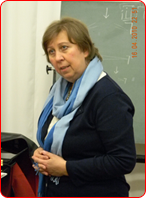 2) Mr. Surendranath Majumdar participates in Sur Sangam, a professional teachers training program organized by Max Mueller Bhavan & Music Universiry of Wuerzburg, Germany.

3) Inaugural Concert on November 2010 at Birla Academy of Art & Culture.

4) 2 students appears for Trinity College Examinations scoring 94% and 89%.

5) Max Mueller Bhavan sponsors Jeet Goswami, a student of AMEC's Outreach Program, to participate in the 1st Calcutta Classical Guitar Festival, December 2010.

2011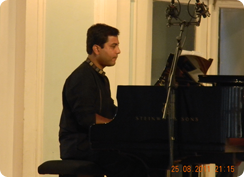 1) "India has got Talent Season 3" visits AMEC for internal audition.

2) Our guitar student selected for Zee Sa Re Ga Ma Pa junior.

3) Mr. Surendranath Majumdar represents India in a Music Festival and performed at the historic Moscow Conservatory, Russia.

4) AMEC starts a new centre at Hazra Road.

5) Four Piano students qualified for CrescendoII finals. Kanishka Saha & Soham Guha Thakurta received the first & second prize. 6) Jeet Goswami, student of AMEC's Outreach Program performs in the CSM's Monsoon Concert. He also joined C4 as a guitar teacher.

7) 1st annual concert organized in November 2011 with more than 70 students performing.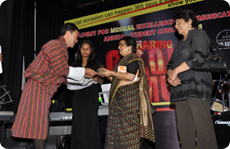 8) AMEC is the 1st Western Music School in Kolkata to recognize the contribution of Music Educators. AMEC presents Lifetime Achievement Award to Mrs. Anita Hazra & Mrs. Fauzia Marikar for their life long contribution for Western Classical Music in Kolkata.


9) Eminent Guitarist Mr. Amyt Datta & Dasho Tshering Wangda, His Excellency Consul General of Bhutan attends the concert.

10) All participants receives autographed certificate from Dasho Thsering Wangda.

11) 14 students appears for LCM, ABRSM & TCL examinations for Piano, Guitar, Keyboards, and Drums. 6 students received Distinction, 6 was awarded a Merit and 2 passed. 100% success achieved.

12) Kanishka Saha participated in the national piano festival organised by Pune Music Society.

2012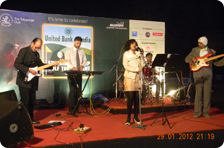 1) AMEC performs at the prestigious Tollygunge Club on the occasion of Friendship Cup Golf Tournament.

2) AMEC assists Garden High School and places Sharmi Chakraborty, as a full time singing teacher.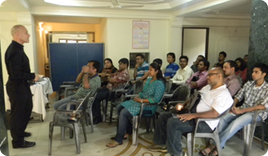 3) AMEC presents the 1st ROCKSCHOOL workshop in Eastern India on 19th February 2012. Mr. Jeremy Ward, Executive Director Rockschool conducted the workshop. The workshop is a huge success as Teachers and Heads of different Music schools across Kolkata participates.

4) AMEC presents Together Forever, a musical Journey on 1st May 2012 at Uttam Mancha. Concept & music arrangement by Mr. Surendranath Majumdar. Design & Title by eminent artiste Mr. Yadavendra Sen.

a. For the 1st time in Eastern India, an audience of more than 700 attends a Western Classical Music – For more than 400 of the audience, this was their first experience of Western Classical Music.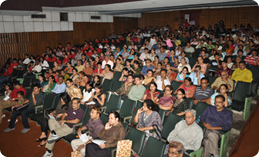 b. For the 1st time Kolkata experiences a professionally designed concert to showcase young artists performing Western Classical & Classic music with extensive use of High quality Light & Sound.

c. Audience feedback as "Beyond Imagination" & "Simply Majestic" reflects the musical and organizational expertise of AMEC as the only professional music school in Kolkata.

d. Audience stays back till the end of the show and requests for more music after listening music for nearly three hours.

e. AMEC showcases Band & Ensemble performances.

f. The Theme Song based on Canon in D by J. Pachelbel "Together Forever" is performed by sixteen teachers & students together with two Pianos, Flute, Violins, Guitars, Harpsichord, Bells, Percussion & 3part Voice.

5) 2 days free English Language & Effective Communication workshop at the Hazra Centre for underprivileged children till the age of 12 years.

Press Review