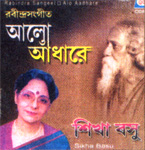 BEAUTIFULLY rendered, every track is a journey into the soul of Tagore. Basu's voice is ever fresh, delivers the high and low notes with equal adroitness and feels every line she sings. These are tracks that take your mind offthehustie and busde and make the evening pleasurable. Well presented, this is a must-buy album. - The Stateman, Saturday 14 July 2007.


THERE are very few singers who have excelled equally in different forms of music. Of course there are tonal and emotional links that distin­guish Rabindrasangeet as much as the songs by Atulprasad, Rajanikanto, DL Roy and Dilip Kumar Roy. But it requires a singer of the calibre of Sikha Basu to produce the nuances and moods which are peculiar to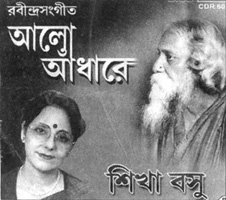 the compositions of each of these stalwarts. The point is that Sikha Basu had started out with Tagore songs, to which she has devoted her time and her mind. Which is why, after all these years, she has emerged with another album that is not just a perceptive inves­tigation of another aspect of the poet's compo­sitions - the concepts of darkness and light - but which produces the musical delights that make it rewarding for the listener.
Tagore has left many of his ideas open to inter­pretation. For example, "Aar rekho na andhare" becomes a poignant submission to a supernat­ural power to rescue one from spiritual distress. Many of the selections in this Gathani album belong to the Puja category and it calls for a devotional tone that comes naturally to the singer. Sikha Basu deals fluently with songs like "Eto alo jaliechho", 'Amar andhar bhalo" and "Xibir ghano andhare" - each one presented with a colour of its own. There are frequently heard numbers too - like "Hriday arhar prakash holo" in which the inner conflicts come through with raw passion and "Amar mukti aloye aloye" which is almost like a celebration of freedom or can be adapted to more poignant situations like death.
Sikha Basu has thought out these songs before presenting them with the care and competence that make this Gathani presentation a worth­while document as well as musically rich. - The Stateman, Kolkata, Friday, 15 June 2007.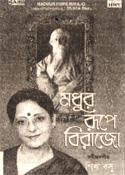 WHILE listening to Shikha Basu in the Saregama album Madhur Rupe Birajo, one realises that the offering is by no means the product of either ignorance or lack of perfection of style and workmanship. The work has popular numbers but sung with clarity and colour. The opening title number has the richness of dhrupad and "Ke boshilo aaji", the brilliance of the grains of a tappa. The compilation has "Puja" numbers in side 1 and Prem and "Prem-o-Prakriti" in side 2. "Aaaji godhuli laganey" makes is a good beginning in the romantic vein in side2 and "Dujoney dekha holo" (from shatagaan) has a lot of passion.
Sikha Basu's voice is soft and the lightness of touch in her rendition relieves the emotion­al tension of passion in num­bers like "Aami nishidin" and "O dekha diye" comfortably. Rahul Chattopadhyay keeps his music arrangement, especially the preludes of every number, in a low key in order to bring out the best out of the singer. - The Stateman, Kolkata, Friday, 3 February 2006
Shikhs Basu has this unique ability of internalizing a Taogre song such that she becomes one with the song. Both her offerings, set in Bhairavi, were endowed with the interpretative brilliance that marks a singer of class. O je mane na mana, an alluring number sung by a court dancer in Prayashchitta, has the qualities of a conversation poem with a dramatic refrain. Doing full justice to the temper of the number Shikha excelled in portraying the suspended drama. – The Telegraph, Friday 18 May 2001

It calls for a good deal of courage to concentrate on musical forms that seems to have gone out of fashion. But Shikha Basu's strongest asset is that she has a voice full of melody and the old songs return again and again to haunt the mind. This time the singer goes a step further by bringing out cassette disc, Jagao Pathike, produced abroad by Biswas Records and just released in Kolkata. – The Statesman, Friday 23 March 2001


Shikha Basu has successfully straddled the world of Rabindra Sangeet along with that of Tagore contemporaries like DL Roy, Atulprasad and Rajnikanto. Her latest release Matrivandana (HMV) extols the nascent energy of the goddess in her various manifestations. Two songs "He kanakkojal Savitabari" and "Aami aar kichhutei bhoy naa kari" are Dilip Kumar Roy songs. "Charan dhare aachi pade" and "Aar keno maa dakchho amay" have DL Roy as lyricist and composer. – The Statesman, Friday 29 September 2000

Dona Roy (Ganguly) who is just back from her third tour of North America Bengali Conference Recollects, …"But the festivals also came alive with songs by Manna De, Swapan Bose, Nachiketa and Shikha Basu." – The Statesman, Friday 23 July 1999

For a singer as experienced as Shikha Basu, it is a matter of debate where she gets the best audiences. Of course Rabindra Jayanti and Baishey Sravan are occasions that never get stale. Each year brings its new attractions and a search for new audiences. But now there is a different experience every time she goes to America on an extended tour at the invitation of Bengali organizations. The Banga Sammelan is a small part of the tour, the rest is devoted to an interaction with growing number of music enthusiasts from San Francisco where the North American Bengali Conference was held in July to Florida, Louisville, Pittsburgh, Washington and Detroit. – The Statesman, Friday 26 November 1999

An interesting collection of patriotic songs sung by Shikha Basu and recitations by Pradip Ghosh from Bankimchandra, Atul Prasad Sen, Rajnikanta Sen and Dwijendralal Roy. – The Telegraph, Friday 26 December 1997

Shikha Basu and Pradip Ghosh make an excellent combination. Shikha Basu is also at her best, especially in Apan kaje achal holey and Taba charan nimne. With Tumi nirmal karo, Bharat amar and Hayo dharomete dhir. – The Statesman, Friday 17 October 1997

How far can you take Tagore, Atulprasad, Rajnikanto and DL Roy. If you ask Shikha Basu she will simply tell you: "Anywhere". And for the right reasons. Because she returned from a stimulating experience of interacting with audiences in Dubai and Abu Dhabi last year only to be again invited to perform more music enthusiasts in California. – The Statesman, Friday 25 April 1997

The Solo recital by Shikha Basu at the Aurobindo Institute of Culture to mark the birth anniversary of Prodyot Bhattacharya revealed her growing versatility. – The Statesman, Friday 25 October 1996

Shikha Basu earned the rare honour this year of being invited to sing at the first United Kingdom Banga Sankritik Sammelan at Liverpool. She presented Rabindra Sangeet, Dwijendrageeti, and Bhajans to select groups of keen listeners. – The Statesman, Friday 23 August 1996

Shikha Basu, an eminent singer from Calcutta, presented an impressive musical recital at a soiree on April 26 in Dubai. Mrs. Basu's repertoire consisted of compositions of Rabindra Nath Taogre, DL Roy, Atul Prasad Sen and Rajnikanto Sen. – Khaleej Times, Friday 10 May 1996

Some people struggle to become masters in a particular field, while some are born talentes. Indian singer, Shikha Basu, was one of those who was born with the gift of music. She was in Dubai recently while one her way back to India after performing three concerts in the UK. After listening to her at the Dubai concert last wekk, one is left with no doubts about her talent. – Tabloid, Sunday 5 May 1996