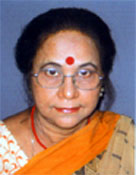 KRISHNA BASU
Profile

Krishna Basu is a very leading name among the modern literary personality of Bengali Literary world. She is very famous modern Bengali Poet. Her poems are very thrilling. She had combined both Indian traditional heritage and the modern trends together in her poetry creations. The qualities of her poetry creations are based on basic fundamentals. She is very much popular poet of today. She always uses her pen in favour of female against the male dominated socio structure. She is humanitarian poet also. Her pen is always for the protest and for the love. She is very much popular in recitation also. She is an eminent & famous orator of Bengali Cultural Heritage of today. She is contributing a lots of her speeches in many Prestigious Programmers, Seminars in India & Abroad. She has established her talents also as a writer. She was born on 17th November, 1947. She is now retired as a college professor.

1) Mr. Krishna Basu on an invitation from Frankfurt Book Fair ( Germany) had the occation to deliver a lecture on Sri Rabindranath Tagore on his 150th Birth Anniversery. This Invitation was extended to her by by Delhi Sahitya Academy.

2) Her novels "Dui Nari Dui Jibon"m was very popular among her readers.

Some of her published Poetry Books:-
Essay Books:-

Jaler Saralye
Narsisus Phute Achhe Eka
Cardigane Kusum Prastab
Jal Betase Andhakare
Nabami Nisir Gaan
Anya Manaska Batas-O-Khola Pata
Sahasini Ke Rayechha, Sajo
Samasta Meyer Hoye Bolte Esechhi
Paran Putuli Padya
O Gaan Jao, Nao Bhasao
Nirjan Nadir Gaan (Published from Dhaka, 2009)
"Shrestha Kabita" (Published from Dey's Publishing)
"Kabita Samagra" (Published by Rang Berang).
Eai Nao Maya Tarabari
Katha Noy, Kathar Adhik
Darpan Darpan
Kabitai Sirsha Shilpa
Shilper Sansare Achhi
"E amar Janma Dag" ( Poem )- 2015

Chhoto Galpokar Manik Bandopadhyayer
Jibon Bodh-O-Shilproop
"Hai Sabhyata" (Essay Compilation)
Contineous Novel is being published in the Famous Film Magazine," Prasad", The name of novel is " Katha Gahono-O-Gavir".
Contineous Novel is being published on the commercial Magazine," Ashabaie", The name of the novel is " Marmer Maromi Katha".
Her Published novel,"Manisher Bhitor Khata" from "Sutanu Prakashani" in 2011.
Her published novel " Dui Naari Dui Jeevan" from Dey's Publication, 2010.
Special Issue on Krishna Basu in 2012, from Magazine " Abaar Esechhi Phire".
Special Book on Krishna Basu " Prasango Krishna Basu" Published in 2011, All famous writer have been contributed their writings on Krishna Basu.

In 2013 another book of verses was published. The name was "Madhyarathya Chandra Prapat.

In 2011 her published book of verses under the name "Chapya Akhorer Jadu" saw an entry in the kolkata book fair.

Anubikhaner Jibon ( Sort Story ) - 2015

Awards won by her:

Pratishruti Award
Sopan Award
Kabi Shakti Chattopadhyay Smriti Award
"Uttara path" Award (Sweden), 2001.
Kabi Bishnu Dey Smriti Award, 2005
Utsab Award by Prabasi American, 2008
3rd January, 2009, Bangla Academy Award (Alpana Acharya Smriti Puraskar).
"Writer in Residence" - The honour by Sahitya Academy of Delhi, 2009.
2011, October,Franfrut Book Fair of Germany, Sahitya Academy of Delhi, Selected invited speaker, Poet Krishna Basu from India on "Rabindranath & World Culture.".
2010, Sahitya Academy of Delhi has been offered the Honour of Fellowship " The writer in Residence",as a National Honour.
2010, NRI of America has given the prestigeous award, "" Utsab Puraskar ".
In the year 2009 She was awarded fellowship from Sahitya Academy.
She was awarded the "Alpana Acharya Memorial " award by bangla academy in the year 2009.

She had lots of Novels. She is the regular writer on different popular Journals, papers, magazines etc. She was a regular columnist in Daily News Paper, "Sambad Pratidin", for her regular column on Personal Prose, "Mone Mone" from 1999 - 2008.