His role as an Author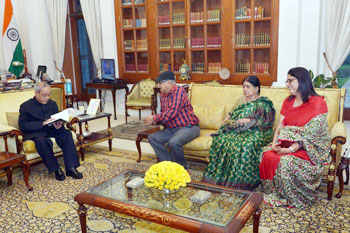 Dr. Partha Chattopadhya is still socially active and has undertaken a lot of travels in India and abroad. He is still holding academic connections with a number of universities like Viswabharati and West Bengal State University. He still writes religiously everyday and now is working on his 112,h book that is an Encyclopedic dictionary of Mass Communication likely to be launched during the Kolkata Book Fare 2018. Besides dictionary, his 113th book "The Foreign Travel Diary of a Journalist", Part-I a voluminous anthology on his experiences of touring the globe for several years since 1960 will be published in two volumes. His valuable contribution to academic journalism was lauded by hundreds of journalism students. His Ph.D thesis contained - 'the evaluation of the Bengali Press during the 19th century as a catalyst to Bengal Renaissance' was serialized by the Govt, of West Bengal's mouthpiece 'Pachimbanga' in 1975-76 and was published by three publishers consecutively. The 400 page book still sells well for its adroit documentation of history, written in lucid language.
Dr. Chattopadhya was pioneer in writing reference books for journalism students and once persuaded State Book Board to publish books in Bengali on Mass Communication. He has written as many as 6 books on different aspects of journalism, now used as approved reference books in Colleges of West Bengal.
As an educationist he conceived the idea of how to develop self-learning in English for Bangla medium students who are afraid of shaking off this fear psychosis. Chattopadhya devised a novel way to make English learning 'students friendly'. His book how to learn English is now running 5th edition in last 6 years. He has now concluded a contract of writing a series of scripts for short films on English learning and self-motivation, sponsored by an NGO under Govt, of India grant. He is connected with West Bengal College Service Commission as an expert as he was connected with the UPSC.
A Charismatic Author :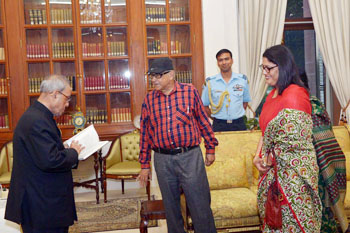 Dr. Chattopadhya started off his writing career in 1957 when he was a undergraduate student. Even at that young age he had obtained prizes for writing a short travelogue awarded by the West Bengal Youth Festival Committee in 1957. He got a number of local prizes for short stories in story competitions. Even he used to earn his pocket money by writing since his college days. During his 60 year writing career he wrote 150 stories, 500 essays and many poems. He is the rare of the rarest author who can move his pen at any direction. So his Treasurer strove of literature is filled with varieties of writings - Travelogue to short stories, Dramas to Novels, Essays to Features. He writes journalistic writings in English. But two of his books have been translated in English. Once his ambition was to be a novelist and short story writer. His collection of best short stories and other selected stories were published by half a dozen foremost publishers of Kolkata, Guwahati and Dhaka. A progressive Bangladesh publisher, published his Dateline Dhaka, the only documentary on Bangladesh War 1971. This was author's eye witness story of the 'V day and after his arrival in Dhaka on December 17, 1971 after taking a dangerous journey through the war ravaged districts in Bangladesh. His boat was shelled by the army mistakenly for enemy boat and they were narrowly escaped down the river Meghna.
His Assam Connection
Almost all motivational books of Dr. Partha Chattopadhya were translated in Assamese when Assam was reeling under violence let loose by the mlitants. Chattopadhya toured Assam and held several workshops at the Guwahati Press Club, Guwahati college and terror - struck area of Kakrajhore district. He advocated for peace and ensured the youths that peace comes only through self reliance and positive thinking. His book earns public support to his cause. Now many college students in Assam will vouch for Chattopadhya as a great motivational force. Some students in Guwahati launched an 'whats App Forum' to consolidate support for his motivational messengers. Sometimes Assamese students come down to Kolkata to meet with the author. No contemporary Bengali author had earned such a pulling power as chattopadhya garnered for his cause. He was felecited once by the Guwahati Book Fair and on another occasion Guwahati Book Fare Committee invited him to give a special talk on his writings.
When he tourned Noth-Eastern States, Assamese Press, Nagaland Press, Press in Tripura and Mizoram prominently covered his speeches and expressed soliderity with his pro-life movement.
Didicated to Public good
An ardent follower of Bankim Chandra who advised all authors to write something for the welfare of public good. Chattopadhya opted for motivation writing in preference to light stories and cheap novels. He investigated the cause why the present day authors of contemporary Bengal no more attract general readers. Public library movement has degenerated, library readers have dropped. The major authors now depend on Govt, purchase and vigorous promotional activities by the media who specially sponsor only some selected writers. Chattopadhya chose subjects that would not only change the people but also would give some time to ponder, to look into one's self, and must arouse self-esteem and self confidence.
Hatash Habenna - a Path Finder to the Humanity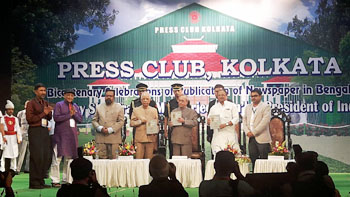 When his first book oon Motivation series 'Hatash Habenna' (No room for despendency) hit the stand by a discreet publisher with a lower grade production skill, was taken by the readers with awe. During last 30 years Hatash Habanna got new shape in new edition (after 4 editions by its first publisher) published 10 editions and expanded in 6 volume covering over 700 pages has become one of the best selling books in contemporary Bengali literature. The book was published in Assamese by a formost Guwahati publisher Bina Library. Assamese version ran 3 editions each Vol. After retirement from his last assignment as a Dean and HOD of Mass Communication Assam Central University Chattopadhya did not take any reemployment and vowed to his life to the cause of children, youths and battered women. Since then he became a social activist and vowed.
1. To write books of inspirations for the children and youths to imbibe positive dreams, to love our motherland and respect Heroes of our land. He taught how to stand against odds and face the music of life gracefully.
He advised how to be a good humane by paying respect to the parents, elders and teachers and eschew violence as a creed. In no circumstances violence can bring about a good society (Read his book those who want to become big, what you have not been thought in school and 'Are you a school student, then build up your entire life' etc.).
2. His messages to adolescents are specific. He advises how to fix their career goal and not to deviate from the goal at any cost. He says be aware of sex abuse. Sex is not a play. Be aware of the consequences of Drugs and Smoking. Never spoil your health. You are born to do good to yourself and to yours society. Never compromise on your way to success (Ref : what they don't teach you in college', 'oh love where thou art new! *How to come over Forgetfulness1. 'If you want to win. Accept your Defeat, 'change yourself. 'Say yes when others say No', '50 No's that may change your life'. Another 50 Noes etc.).
Women Empowerment
For women Chattopadhya developed certain concrete tips for their empowerment. As his own sister was married off at 16 and could not finish her school education, her life came in almost ruination by perpetual neglect. He advised every woman not to marry before being self sufficient. He addressed the current deplorable status of Indian and world women with documentary evidences. He answered to his self posed questions. In his book namely women How are you ?' Women are not well', He gives the answer. In above books he investigated the cause behind the poor health and lower status of women and delved deep into their Physiological and Psyaological conditions. He suggested measures for their amelioration. His was not an academic approach. He was cent percent down to earth.
JIVAN DEEP - His novel on Human re-settlement
Humanity and human values became first and foremost priority. In Chattopadhyas life. During his first information visit to Diglipur in 1964 a Bengali refuges settlement in the Andamans he was so moved hearing the pathetic stories of uprooted people from East Bengal who came in a lovely island in search of new life, Chattopadhya revisited Diglipur after 15 years and lived with the settlers for a month, shared lives with them to write his pro-life novel 'The Island of Life'. (Jivan Deep) He is a writer who never writes anything that is not linked to life.
A Global Trotter
He traversed the entire Globe through a series of, either sponsored or paid by him trips to study land and people. He visited as many as 35 countries covering 100 towns and countries abroad, met numerous people from the President of nation to a common farmer. He met the President of Pakistan, Chief Minister of UK and Northern Ireland, lived few days with an American farmer family in a village in Wchita state, USA and in a Greek family in Athens. He used to live with families in England for months and became guests in a number of NRI families in Australia.
Love - No War
Wherever he went, he carried the messages of Mother India -'peace and 'Love' No War'. He spoke at the public school at Denver, Indian Association int Washington DC, at the University of Canberra and Sydney, at the Rotary Club of Sydney, talked at the meeting of the intellectuals at Yoga Jakarta and at the Indian Centre at Den Passar, Bally.
A trip with Indira and Raiiv Gandhi
In 1983 Ms. Indira Gandhi included Chattopadhya to her Prss Party on a trip to the UN via Greece, Cyprus, UK and the U.S.A. - When she addressed the 33,a General Assembly Session. After Indira, Rajiv Gandhi became Prime Minister of India and the PMO invited Chattopadhya to accompany the PM to the SAARC Conference in Dhaka in 1985 as a journalist.
His contribution as a journalist
Chattopadhya took to journalism while he was a M.A. student of Kolkata University. In his struggling life he faced many hurdles to cross over. He had to earn bread for his entire family of 6 at the age of 23. In his student life he had to work in grocery shop, he used to sell fruits and fast food in the market, hawk magazines and books and for some time took a part-time job in the irrigation department. Once he was denied to sit for school examination as he was defaulter of tuition fees for few months. Out of despair he went to join Merchant Navy and was almost selected but could not be recruited as he did not carry his age certificate. He was a student of Class-IX at that time.
A Zealous Personality
Being rejected he was not frustrated but became more zealous to continue his study against all odds. He kept his promise and after having done his M.A., took Ph.D. degree from the C.U. on Bangla vernacular press. As a journalist Chattopadhya always remained Pro-poor, Pro-minorities and Pro-Dalit's, although he came of a Bengali orthodox Bramhaman family he stood always by the side of the oppressed against the oppressors. The Bengali Muslim Community regarded him as their friend. When the Bongalok Daily was edited by him he opened a special page exclusively for the Muslims and the Christians. His paper used to publish Hizri dateline along with Bengali dates. He used to bring special issue on Id alongside with the Puja special issue. The gesture was cordially accepted by the Muslims, Christians and Buddhist Communities. He used to patronise Muslim authors and consequently Bongalok became a medium of communal harmony for which Muslim communities of Calcutta once felicited him at Muslim hall and later Muslims of North 24-Parganas awarded him the title of 'Jwahr - ee - Musannif in 2008.
The Maqzine that brought out change
Chattopadhya edited a Bengali magazine namely Paribartan for 4 years which he considered the best period of his career. He made several experiments of Investigative Journalism in various forms, brought a change in the tradition of Bengali Magazine. It was devoted exclusively to hard stories with revealing facts and unearthed irregularities corruptions and injustice at high places. Its political stories divulged many secrets without fear and favour.
The major radical changes Chattopadhy made in magazine journalism are as follows :
1. Taking an adversary role without fear and favour.
2. Discarding yellow journalism - sensationalizing events.
3. Discarding erotic stories and pictures.
4. More space devoted to readers to express their non­conformist views.
5. Advocacy features encouraging people to look at villages - their developmental potentials to explore.
6. Revival possibilities of traditional village Industries.
7. Special issues for the promotion of local tourism, restoration of traditional industries like fruit based industries, traditional sweets, and fisheries.
8. Created a unique contact between the editorial groups and Readers group by establishing branches in every town namely Paribartan Readers Forum. Even branches in Dhaka and in NJ in U.S.A. were set up. As a result the circulation of Paribartan rose to record growth from 50,000 in 1982 to 1.15 lakh in 1983.
All political parties welcomed Paribartan as an model magazine. Countries like U.S.A., U.K, USSR and china invited Chattopadhya to visit their countries as a guest and to write on them freely. Mrs. Indira Gandhi was so impressed that breaking the tradition she invited the only weekly - Paribartan to join her entourage for UN visit. The next PM Rajib Gandhi also invited Dr. Chattopadhya to accompany him to the SAARC Conference Dhaka.
Accolade Chattopadhya received both bouquets and brickbats for his independent opinion. He was not inimical to any political party but kept equidistance from all. As a follower of Gandhiji he was ideologically opposed to violence and never spared those who advocate violence as a means. He never supported any communal politics. But from his childhood he imbibed nationalism from the core of his heart and he had accepted personal invitations to attend meetings, seminars organized by any nationalists Forum although he is very selective to participate in public forum. He has kept his mind free and put his head high and would like to keep it up till his last days.
As an Academic
Chattopadhya kept his academic bend of mind alive and kicking in the midst of his hard pressed casuals. He joined the department of journalism as a part-timer in the University of Kolkata for 9 years. He chose full-time Mass Communication teaching career in 1998 and joined Assam University as a Dean and HOD of the dept. of Mass Com at the invitation of the then V.C. He accepted the challenge, went to Silchar and turned a new leaf of his career. He built up the department from the scratch and placed most of his students UN to gainful professional positions. When he retired, his students, colleagues, employees gave him a historical farewell with a presentation of a special publication containing articles contributed by students teachers and employees. He left behind such an imprint that the concerned citizens of Barak Valley still cherished his memory. Chattopadhya as a teacher left behind him many memorable academic activities. He was associated with all universities in the North-East in different capacities. In some universities he was appointed expert, adviser, SPL Lecturer and examiner for their Ph.D. programmes. In some universities he became member of the Selection Board. For A.U. He was appointed a Pre-NAAC observer.
Awards and Accolades
Chattopadhya has a number of awards and accolades to his credit he was felicited on numerous occasions. In West Bengal, Bangladesh and Tripura.
He got two International Scholarships for study and Research abroad. One Fellowship was given by the Commonwealth Press Union, London which enabled him to go to England to study and undergo training in journalism in 1960 when he was only 23.
His Second Fellowship was most Prestigious Jefferson Fellowship awarded by the East-West Centre, Hawaii University which took him to the U.S.A. to work under international fame communication expert Late Dr. Wilbur Schramm. Chattopadhya submitted his thesis on problems of urban communication in Honlolu and got due appreciation.
He was invited by the UNESCO to attend International Seminars in war saw in 1978 and a seminar on Dhaka in 1980. In India, he presided over Govt. Seminars at HD Hardik state open University in Guwahati and Gandhi Smriti Darshan Samity Seminar in New Delhi.
His association with Gandhi Smriti and Darshan Samity began in 2003 when he first started Children Summer Camp in Kolkata. Since then he organized as many as eleven camps for children in villages of different districts to motivate young souls unto the path of peace and non-violence. He used to take classes where he infused in them the values based character building and accept self-relience and resilience as means to shape their future life. Patriotism and love for country was the key word for such camps.
Tagore Scholar
Chattopadhya's another feather on his crown is receiving a prestigious scholarship like 'Tagore National Scholarship' awarded by the ministry of Culture in 2015.