An Overview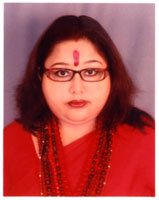 Movement of celestial bodies influences the present and future of individuals – their personal life, career, family etc. Therefore to choose the right path of successful and to achieve growth, accurate astrological prediction of future becomes immensely important. Medhasri Sastri is an eminent astrologer of India and he forecasts future of individuals using ancient principles of Vedic astrology. Her calculations & predictions have come true for many.

Mrs. Sastri draws astrological predictions through exhaustive calculations of planetary strength - Dasa and its sub-period - Bhava and Phal. Her highest degree of accuracy in predicting someone's future helps individuals to know about their fortune and destiny. Mrs. Sastri also provides consultancy for vastu, kundli, muhurats and other Vedic tools. She also predicts potential forthcoming problems and accordingly suggests astrological remedies through gemstones, yantra, etc.
About Her
Astrologer Medhasri Sastri is one of India's most famous astrologers providing astrological predication, consultations and remedies. She has been actively involved in astrology. She achieved finest qualifications of Vedic astrology. She pursued her studies under the guidance of eminent astrologers in best institutes of India.
Accurate & Pragmatic Solutions
Astrologer Medhasri Sastri has expertise in astrology, palmistry, gemology, neoumerology and horoscope. Her works have roots in ancient Vedic astrology principles. In the wake of her expertise, several clients pay visit to her for predications and solutions related to career, finance, relation, love life, destiny, family, etc. Among the Vedic accurate & pragmatic solutions, the prominent ones are:
Face Reading
Hand Reading
Life Prediction
Marriage Forecast

Health Forecasting
Career Prediction
Business Forecasting
Janam Patrika

Match Making
Gem Stone Therapy
Red Book