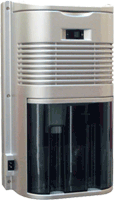 We at ALTI-AIR AIR CONDITIONERS, offer a range of air conditioning equipment like refrigeration equipments, central air-conditioning, domestic air-conditioning, refrigerator, Low temparature Freeze, Humidifier, water chiller & dehumidifier etc. that are useful in many areas.
We have the own manufacturing brand "ALTI-AIR". ALTI-AIR brand is the manufacturing brand of room air conditioner, refrigerator, water chiller, chilling plant, dehumidifier etc. We are also the repairer of these products. We gives the service maintenance of AC plant.
We have the other business organization named "RUOSS AIRCONDITION CO."
These products sourced from reputed brands assure the clients of better output. Besides supplying these products, we also provide our after-sales-services to our clients. With our exclusive and qualitative range we have satisfied our numerous clients who are spread all across India.
We take great pleasure in introducing ourselves as the leading manufacturers / Repairer and trade of various brands like VOLTAS, OG, DAIKIN, HITACHI, Panasonic, Haire, LG, Samsung of window / Split type Room Air conditioner, Water Chilling Plant, Dehumidifier and water Cooler etc and Central Air conditioning Plants also service provider of SUNBEAM APPLIANCES (MUMBAI) Products like Panel cooler, oil chiller and Other precision jobs etc.
Our Few customer - Jadavpur University, Calcutta University, BESU, IIT Kharagpur, I.A.C.S, Burdwan University, Techno India.
1. Jadavpur University.
a) Dept. of Chemistry
b) Dept. of Physical Chemistry
c) Dept. of Organic Chemistry
d) Dept. of Production Engg.
e) Dept. of Geology.
f) Dept. of Electronics
g) IC Design & Fabrication Centre
h) School of Energy Studies
i) Dept. of Electrical Engg.
j) School of Women Studies
K) School of Biomedical Engg.
l) Dept. of Physics
m) Dept. of Printing Engg.
n) Dept. of Accounts.
o) Dept. of Pharmacy
p) Dept. of Architecture
q) Centre for Knowledge base education
r) School of Education Technology
s) University Press
t) Computer Science Dept.

2. Indian Association for the Cultivation of Science.
3. Indian Statistical Institute.
4. University of Burdwan
a) Dept. of Botany
b) Dept. of Physics
c) Radionics Lab.
d) Dept. of Chemistry.
5. All India Radio & TV. Calcutta.
6. W.B.I.D.C.
7. Central Excise (Calcutta Zonal Office)
8. Indian Institutes of Engineering Science and Technology, Shibpore
a) Dept of Computer Science & Technology
b) Dept of Physics
c) Dept of Chemistry
d) Dept of E T C Engg
e) Dept of Electrical Engg
f) Dept of Applied Mechanics
g) Green Energy
9. University of Calcutta
a) Dept. of Electronics
b) Dept. of Mathematics
c) Dept. of Physiology
d) Secretariat Office
e) Dept. of Botany
f) Dept. of Computer


10. Century Cement & Kesoram Industries Ltd.
11. Megacitv Programme - Calcutta.
12. World Bank Project [E.D.C.ILL]
13. Tata Steel
14. Webel Informatics Ltd.
15. Calcutta International School Society
16. Netaji Nagar Day College
17. A.R. Das & Associates
18. Calcutta Telephone (Salt Lake 321)
19. Institute of Jute Technology
a) Dept. of Textile Chemistry
b) Dept. of Computer
c) Dept. of Fabrication
d) Dept. of Chemical & Fiber Testing Lab.
20. Indian Oil Corporation
21. Indian Oxigen
22. CMDA Project
23. University of Kalyani
24. University of North Bengal
25. NIIT (Baranagar, Haldia. Uttarpara, Paskura, Tamluk, Deshpriyapark Mechada, serampore).
26. Chief Justice of Suprime Court (Residence)
27. Chief Justice of Calcutta High Court (Residence)
28. Kwality Restrurent.
29. Calcutta Stock Exchange
30. Visvabharati University
31. Hooghly Institute of Technology
32. Jnan ghosh polytechnic
33. PWD (Basirhat Banglow,Taki,)
34. RCC Calcutta (Jadavpur University Campus)
35. RCC College of Information Technology
36. Paschim Banga Rajya Sangeet Academy.
37. Indian Aluminium Co, Lohardoga
38. Institute of Leather Technology
39. Saregama India Ltd (HMV)
40. State Bank of Hyderabad,calcutta.
41. ITC Agrotech Ltd
42. IIT Kharogpur
43. Power Master Pvt. Ltd.
44. RPG Net Cables.
45. Durgapur RE. College.
46. CI S F
47. C M S D S- DRDO programme
48. CGCRI
49. M N S I Technology
50. Enforcement Dept- Kolkata