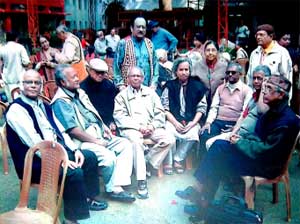 Chitta Sarkar was born on 18th April 1937. His inclination towards arts brought him under the renowned artist Shri Debabrata Mukhopadhyay.Under his tutelage he not only participated in Entally Cultural Conference during the period 1955-56 and also and an exhibition on Netaji Subhash him Chandra Bose in the subsequent year in Netaji Bhavan. Shri Debabrata Mukhopadhyay considered him as one of his brightest students.Chitta Sarkar also had the experience of working with murals exhibits in the Institute of Engineers.In 1960 he obtained a diploma in Applied Arts from Govt Arts College Kolkata.
During his working tenure in Indian Museum from 1961-1990 he was continously involved in painting. His painting exhibitions were displayed in Academy of Fine Arts, Rabindra bharati University, Coochbihar Library and in other Art galleries.His illustrations were seen in many popular magazines like Sishusathi,Sasthimadhu,Paathshaala, Bingsa Shatabdi,Betar Jagat,Darshak,bichitra, Narnaari,Ekush shatak and many others.Apart from these he had also provided his artistic touches in the titles of quite a few Bengali films.
Apart from his own creative works Chitta Sarkar had an yearning to make some contribution in promoting budding artists and "Esho Chabi Anki" was his brainchild which came into existence in 1976.Situated in Nager Bazaar in DumDum this institute is quite renowned. A popular art-oriented Cultural Magazine "Chitrakalpa"was introducedby him which has earned the appreciation of many artists and art-lovers.Nowadays Chitta Sarkar is travelling in the rural areas of West Bengal and his observations are being illustrated by sketches noted of which are the dwellings in Ushagram.