The renowned poet, researcher cum essayist Smt Dipali Ray was born on 2nd January, 1943, in Noakhali District of undivided Bengal in a very cultured & educated family.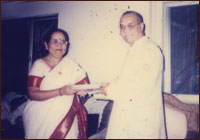 Her father was Sri Kumud Bandhu Das, the retired Govt. officer and mother is Srimati Chhabi Das. Her husband was Mr. Pranab Kumar Ray (Bar-at-Law). Her son is Mr. Pramit Kumar Ray (Bar-at-Law). Her daughter named Lapita Banerjee (Bar-at-Law). And her daughter- in- law is Sreya.
Dipali had completed her schooling from Ramkrishna Mission Sister Nivedita Girls' School and graduated from the Lady Brabourne College, Calcutta. She had spent her early age at Manasadwip, the remote country side of Sundarban, the heavenly nature with seas, trees and tigers. This natural scenario of Sundarban and its surroundings always reflect as basic of Dipali's literary creation and poetic imagination. After the early childhood in Sundarban she had come Calcutta and had been admitted for schooling in Dum Dum Kumar Ashutosh Institution for Girls'. From class VII, she had entered the Ramkrishna Mission Sister Nivedita Girls' School at Bagbazar and at Sarada Devi Hostel of the same School. Poet Dipali had completed her Graduation in 1962 with Bengali Honours, from highly reputed the Lady Brabourne College.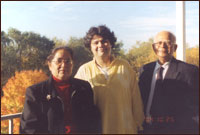 She had passed the M.A. with 1st class in 1964, from the University of Calcutta. She had joined as a professor of Bengali department in Maharani Kashiswari College from 1965. As a researcher, her research subject was on "Madhusudaner Kavi Bhasa", (Stylistic Analysis of Madhusudan's Poetry). By this classical research subject, she had obtained her Ph.D degree from the University of Calcutta in 1991. The global spreaded profile of Madhusudan had attracted Dipali to be chosen as the subject of research. Dr. Asit Kumar Bandyapadhyay (Ex- Head of the Department of Bengali, in the University of Calcutta) had appreciated her research work on Madhusudan as the most analytical and penetrative research work.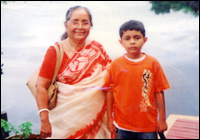 Dipali is an International traveller also. She had travelled lots of country like America, Belgium, Holland, Austria, Germany, Italy, Switzerland, France, United Kingdom and not to speak of Bangladesh, Burma, Thailand, Singapore, Malayasia and Myanmar. This experience had also reflect in her literary creation.
Her hobby is music and travelling. She loves to serve the poor.
Dipali is besically deeply observer of religion. She is a famous recitor and eloquent. She usually delivers her religious lectures to the Vivekananda Society, Jhamapukur Raj Palace, Shyampukur Bati, Ramakrishna Sangha (Vidyasagar Kendra in North Calcutta) in every month. Lord Sri Ramkrishna, The holy mother Sarada Devi and Swami Vivekananda are living deities to her. Still they are controlling her whole existence.

Some of her Published Books:
Priya Mahimar Kanthe in 1993
Chälchitre Devi Durga in 1997
Madhusudhaner Kavi Bhasa in 1999
Duyare Däriye in 1999
Bäbäke Nivedita in 2001