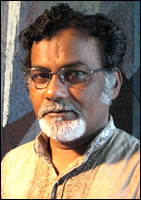 Born 2nd January, 1952
EDUCATIONAL QUALIFICATION :
Stood First in H.S .Exam, Board of Secondary Education,W.B.-1969.

Obtained First class with Distinction in T. T .Art App. course, C.U. 1974.

First class First in 5 years Diploma Final Exam.in Painting -1974, Government College of Art & Craft, Calcutta,

First class First in 2 years Post.Dip final Exam. 1976, Government College of Art & Craft, Calcutta.
SCHOLARSHIP-
National - Awarded National Talent Scholarship for 5 years – 1970 – 74, Govt. of India.
National Cultural Scholarship in painting by Govt. of India for 3 years-1975-78.
Abroad - Awarded Italian Govt. Scholarship in painting in Italy -1978-79.
AWARDS IN EXHIBITIONS :
Awarded 4 times in G.C.A.C. annual exhibitions - 1972 – 76.
A.N Tagore Memorial medal, Society of Oriental art All India Annual exhibition,-76
Academy Award by State academy of D.D.M.& Fine arts, 1978.
'Academy award' by Academy of Fine arts in All India Annual Exhibition,1988
EXHIBITIONS :
Exhibited in more than 100 important Group / Public or Solo shows in State level
National level in India and a few in abroad like - Gallery De Sistina, Rome
Plazza Del Comune, Perugia, Gallery Pan Arte, Florence in Italy, India House
London, Hegue, Holland, Bangladesh etc. since 1972.
WORKSHOPS / CAMPS /SEMINARS :
Participated in numerous major Art Workshops /Camps and Seminars throughout India and Expert member / Observer / sponsored by U.G.C. / Govt. of W.B., Govt. of India / University or reputed organizations, since 1976.
COLLECTIONS :
Lalit Kalka Akademy, New Delhi, Gallery of Modern Art – Mumbai, Birla Academy of Art & Culture, Kolkata, Defence Head Quarters, Govt. of India, Senate Hall, university of Calcutta, Plazza Del Comune, Perugia, Italy, India house, London and many more.
TEACHING EXPERIENCE :
Serving as a Teacher in painting , Govt.College of Art & Craft. Cal. Since 1982. In this period served as H.O.D of Painting for 14 years and Served as Officer-in- Charge ( Acting- Principal) of the same College .for 3 years .

EXPERIENCE IN THE FIELD OF SPECIALIZATION :
In last 26 years of teaching, had to go through various type of academic as well as administrative activities, e.g. Chairman / Member of BOS / Examiner / paper setter / moderator in visual art of C.U., R.B.U, Visva Vharati, BHU, Assam University, Berhampur University etc. Convener of Ph.D.Committee in Visual art, Calcutta university.
RESEARCH :
Guided National Cultural Scholars in painting as a Supervisor. Research Scholars guide for Ph. D. Degree in Visual art , C.U.

PUBLICATION :
Published numerous valuable articles on visual art in popular Journals & Magazines.