Poet Narendra Nath Dasgupta was born on 18th April,1934 at GailaVillage of Barishal District of the undivided Bengal (Presently Bangladesh).His father's word –"A man has done a man can do" had given him the basic inspiration for his contribution to Bengali liter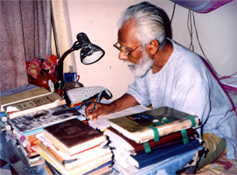 ature. After independence of undivided India,he had settled in India with his family in his boy-hood from native Bangladesh. His family had settled at Bankura district of West Bengal where he had spent a lot of years. He had studied there and then he had taught as a primary School teacher there. After that he had worked in the Health Department of West Bengal Government.
He had some unique feelings in his poetries creation. He had experienced the pre-independence & post – independence situations of India.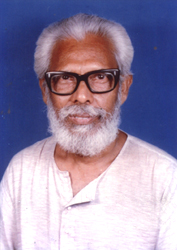 He had seen communal riots and famine situation of Bengal. He had seen the poor and distressed people of the society.
All these herd & real feelings had influenced him to write. The poetries based on naturality, reality, humor Protesting, ethics etc. Apart from creation of adult & deeply thinkable poetries, he is also contributing poetries of children and juvenile. He has the strong leftist feeling which is spread on all his writing creation.
Not only by his father, He was deeply influenced by the Protesting poet Sorajlal Bandopadhyay, Poet & Dramatist Mohit Chattopadhyay and poet & rhymes writer Prafullakumar Datta. His first poem was published on the little magazine, 'Adhunik Kobita". His huge numbers of poetries has been published on many famous Bengali little magazines. Many of his poetry books has been published latter.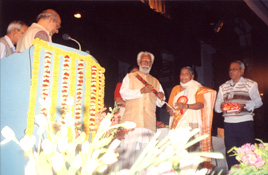 His Awards/Achievements :
Marichika Sahitya, 1999.
Jhoro Haowa, 2000.
Atandra Padak, 2000 from Atandre Sanskriti Sansed.
Nadia Press club, 2001.
Chokh Sahitya, 2001.
Received First Prize in the competition of Essay organised by West Bengal State Govt. Pensioners' Committee (Subject : Imminent danger of Capitalist Globalisation in front of Human Civilization).
Joggeswar Music East Institute, Kolkata 2000.
His Published Books :
Andhare Alote
Balok Dukhu (Children & Juvenile)
Ankchhe Khoka Akash Nadi (Children & Juvenile)
Dhasta Manusher Mukh
Tumi
Chhaya Path
Aranya Takie Aachhe chokh
Katodin Dekhini Roddur
Bahudin Aainai Dekheni E Mukh
Dichhe Pari , Reler Gari (Children & Juvenile)
Halud Pakhi, Tokei Daki (Children & Juvenile)
Jiboner Kathakate
Book in Bengali & English version :
The two Amazed Eyes / Bismita Duto Chokh.
Edited Little Magazine :
"Nagarik" – is a famous Bengali little Magazine, published yearly. All types writing are being published in this little magazine. Many famous & talented literary personalities have given there writings in this magazine.
SUBHRO MANJARI Patrika publishes one time in a year and it edited by Shri Dasputa's Daughter Sima Dasgupta and Daughter-in-law Mousumi Dasgupta .