The Mark of a leader :
Elements of effective strategy, accuracy and efficiency are the hallmark of private investigation agencies in the handling of cases and the key drivers for your success. We at Blackboy Detectives offer these elements in each matter that is entrusted to us and maintain the highest ethical standards.
Rich History :
Established in 1980, Blackboy Detectives has over thirty years of investigative experience from the government sector, private sector, and individuals.
Founder Information:
Our founder Mr. Bharat Prakash, an ex-Indian army captain was trained and actively associated with intelligence activities during his service career. He was awarded Sena medal by 'The President' for exceptional devotion to duty, leadership and courage.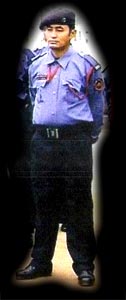 Manpower :
Our investigating team comprises of senior management team skilled in handling Finance related cases, Commercial intelligence, Assets verification, Computer security, Expertise in hand writing and finger prints, Examination of security coverage, Credentials verification, Pre and Post marriage enquiries, Cases related to properties, vehicles, etc.
Our executive team comprise of officers having sound experience and meritorious services in police, para-military forces i.e. CISF, CRP, BSF, intelligence agencies along with our own on the job trained men.
We have a group of highly experienced, trained, skilled and motivated men and women as field officers/assistants. They extensively collect information and shadow objects. They are well equipped with electronic devices of latest technology to assist them in their work. They are capable of traveling any where at very short notice to meet the clients need.
All in all, a team you can rely on!
Infrastructure :
We use the state of the art surveillance equipment to deliver the required results.
Professionalism and determination in the investigative process has been and will continue to be our hallmark, regardless of the matter involved; be it in business, domestic, insurance, or otherwise. We at Blackboy Detectives agency are ready to serve your investigative needs in such capacity as may be required.
Our rates are competitive, and within the range of varied clients. Professional references will be supplied upon request. We are confident that you will be satisfied with the standards of our work.