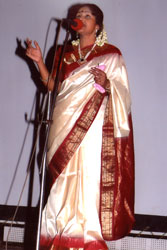 First love, poetry, and due to which her entrance could have possible in the world of recitation. She is accompa­nied by them, both of poetry and recitation in her very own thinking, nursing of her soul and feeling in depth about her own life and world is influenced by the fragrance of poetry.

She, Daliya Basu Saha likes to share the pleasure of her endless glees with her culminated audience. It is her achievement to perform with innovation. In the present day she is an eminent recitor in Kolkata and abroad.
Performances : In various Prestigious Stages of Kolkata like
Bachil Anannya, 06' (Holding 2nd Place)
"Rabindra Jayanti" in 06 & 07
(Rabindra Sadan Moring)
Best Recitor of "Abritti Parisad, 06" & in all other renouned stages of Kolkata & subourbourbun.
As a guest in Kolkata Doordarshan
Work in Various CDs like – Bharati Tirtha
(VCD) with Manna Dey - Kabita Tomate Amate