About Me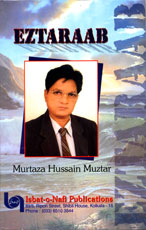 President of - Bhartiya Dalit Sahitya Academy (West .Bengal)
Editor Group of - ' Jankalyan Sambad' Kolkata (W.B.)
Writer of : "IZTRAB" Urdu Poetry Book Issued on 2008
Writer of : "DARPAN-DIL-KA" Hindi poetry book issued on 2012.
His published Book : EZTARAAB ( Urdu Poetry Book)
Life Member of TAHREEK & ADAD.. , Kolkata
Life Member of WRITER ASSOCIATION, Howrah
Life Member of HALOA & SOBHANWARAM, Howrah
Life Member of JAN VACH BAMTYAKAR SAMITY MACHHLI SHAHR, JAIPUR, UP

Murtaza Hussain Muztar is an eminent poet and writer of Urdu and Hindi .His writing creations are based on socio and economical back-ward people.He is a leftist mentality person.So his literary creations are contributed for social and economical revolution of our existing society.His writings are for the poor,the workers who are protesting the existing rich dominated social system.He was born in a family of leftist culture. His father was a factory worker and had participated in the lot of leftist movements. By his fathers inspiration, he had started writings for distressed people. He is a famous social worker also.
Receiptants / Awardee :

1. All India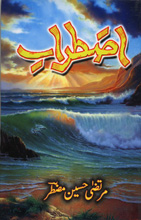 National Safty Slogan Contest Continue 3 years as a 1st Position from New Delhi -1995,1996,1997.
2. Dr. Ambedkar National Awarded from New Delhi 2007.
3. Abdur Rahim Khan Khana Award from Mumbai 2008.
4. Salam Machhli Shahari Award from Jaipur (U.P.) 2008.
5. Dr. Ambedkar Chetna Award from Kolkata -2008
6. Makhdoom Mohiuddin Award from Lucknow -2009.
7. Munshi Premchand Samman – Varanasi (U.P.), 2010
Some of his poetry creations
ABOUT US | SERVICES | FEEDBACK | CONTACT US | E-MAIL
Copyright (c) calcuttayellowpages.com (P) Ltd