Educationist,Writer,Poet and Social Worker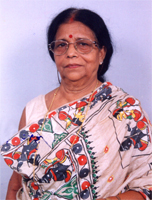 Mrs Malabika Ghosh was born on 12th of January. Her father was Shri Lalit Mohan Dutta Ray and her Mother was Shrimati Binapani Dutta Ray. After completion of her graduation from Murlidhar Girls College she did her post-graduation from Calcutta University.She married Shri Sudhendu Kumar Ghosh and they have one son and two daughters.She was a teacher in Sahapur Girls High School. She has been associated with All India Radio and Doordarshan and is a life time member of Nikhil Bharat Banga Sahitya Sammelan Behala Sakha. Apart from all these she has devoted much time in various religious, Cultural and social service institutions. Her literary contributions has found a place in Ananda Bazaar, Bartaman, Aaj Kaal, Sananda, Tathya Kendra, Satyaki, Simana Nabaran (Mumbai), Ananda Sambad(Mumbai), Octopuss, Madhusudan Mancha Chaya Roddur,Joka SAmbad,Duranter Hoi Choi and in various o ther publications and magazines.
Her writings were both for young and old and several books have been published in this regard. His writen Rhyme books for children are also in the syllabus of schools. One of her stories was adapted into a tele-film.Her writings have earned the appreciation from such eminent personalities like Shri Sambhu Mitra, Shri Annada Shankar Ray, Shri Pratap Chunder Chandra and also other literateurs. Her writings have also gained entry in the internet and through this media has reached out to readers in Australia and the USA. She has developed immense satisfaction educating street children.

Mrs Malavika Ghosh has donned many hats –such as a housewife,educationist,poet ,writer and social worker but she never ignored her household duties and responsibilities.She has embraced what life has to offer with a smiling face and her easy approachable nature has endeared to one and all. Not only one
finds in her a tremendous sense of responsibility but her concern for plants and animals makes her stand out as a very sensitive human being.Perhaps this quality in her makes her very Inspiring to many people.She had the opportunity to visit various parts of the country as well as parts of Bangladesh.Her personal and social commitments have kept her away from the literary world and it is our fervent wish that she does not deprive us and continue to enrich us with her powerful thoughts and writings for many years to come.