A Creative man of creative nature. He is profficient in all the arena of art and culture. One of the chore­ographer and leading dancer of Calcutta Choir. Disciple of Dance Maestro Dr. Shambhu Bhattacharya and Smt Anita Mallick, Sri Pinaki Roy in Bharatnatyam.

Work in various fields of dance in stage and screen. Dance instructor and Choreographer of Shinjan. Founder member of Calcutta Choir and West Bengal Dance Federation. Organised various programme throught India. Tours estensively throught India with reportorie representing West Bengal Govt.
Worked as a Choreographer:

International aids festival ot dance Dance Instructor of Various Dance School Group. One of the Dance Director of inaugural and Closing Ceremony of Biswa Banga Sammelan 2000 held at Kolkata Co-ordinator of Sur-Tal of Alfa Bangia and many other TV Channel Organisor & Teacher of Dance Institution Shinjan for Children. Worked as a dancer of many TV Programmes. Recipient of Uday Shankar Award in 1996 and best choreographer of International AIDS Festival of Dance at Geneva.
Direction - Media

1. Mahishasur Mardini -
A dance VCD choreographed by Kohinoor Sen Barat, released by HMV.
2. Bande Ma Taram -
Adance VCD Choreographed by KSB onf behalf of Calcutta Choir, related by HMV.
3. Pannalal (Shyama Sangeet) -
A dance VCD choreographed by Kohinoor Sen Barat, related by HMV.
4. Suryapuyra -
A dance readition of Tagore's Kama Kunti Sambad, related by OM MUSIC.
5.Eso Ma Durga - Released by BSP.
6.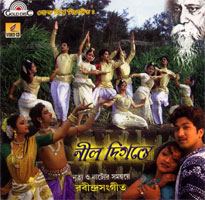 Surer Asgun -
Children's Rabindrik Dance VCD released by Gold Disc.
7. Nil Digante -
Wellknown Rabindrik dance VCD released by Gold Disc.
8. Shyama -
Dance VCD of Tegore's Dance Drama released by Gold Disc.

Social Work:

As a dance instructor of Durbar Mahila Samity and distress children.

In 2004 & 2005 he successfully conducted creative & Bhatatnayam workshop at Omna Dance Centre, New York city.

In 2005, he gave a brilliant solo creative perforance at Bishwa Banga Sammelan.Organised at Manhattan Centre and Madison Square Garden by North American Bengali Conferance. He was also the star performer of 'Gopi Baghar Kanda', Performed by the renowned Calcutta Choir. He was the choreographer- of 'Gopi Bhaghar Kanda' and Chhon Theke Sari which were performed under his direction by American Dance.
Television:

Choreographer of Doordarshan Kolkata's Mahalaya for Continuous Six Years.
Dance Dir. Of Tomoshoma Yotirgamaya of ETV
Dance of Rangaraas.
Dance Dir. Of Various programme of Alfa-Bangla, CTVN and others.
TOURS:

Toured as a Dancer and Choreographer:
Delhi in Int. Trade Fare (1986)
Mumbai in Banga Sanskriti Utsav (1994)
Chennai in Banga Sanskriti Utsav (1995)
Kerala in Inter State Cultural Exchange Prog. (1989/2000)
Goa in Inter State Cultural Exchange Prog. (1990/2001)
Andra Pradesh in Inter State Cultural Exchange Prog. (2000)
Himachal Pradesh in Inter State Cultural Exchange Prog. (1994)
Rajasthan in Inter State Cultural Exchange Prog. (1997)
Bangalor, Bhubaneswar, Cuttack, Kalidas Festival in Ujjaini & Egra Festival
Silver Jubilee Celebration of Banga Sammelan in U.S.A. - (2005)
Bangladesh (2005)
Banga Sammelan in Canada - (2008)