A public school groomed Architect Engineer, diligent and sincere, looking for an opportunity in a fast paced, growth oriented organization, to carve out a responsible position in fields having hi-tech musical inclination, Rabindra Sangeet where I can utilize my skills and develop new ones.

Born in Kolkata "Calcutta", on 30th December 1956,son of Late S.C.Adhikary. In terms of musical qualification Goutam's passed, Sangit Sudhakar ( gold medallist ), Sangit Alankar (gold medalist), Sangit Visharad( Chandigarh ), SangitPravakar ( Allahabad- Bronze Medalist ) all in rabindrasangeet.

Awarded as best Teacher title, all in Rabindra Sangeet, Sangit Gourav (Kolkata).

Goutam began to receive 'Traditional "Taalim" at the tender age of 10 years, of course with the encouragement of Legendaries like Late Jaydeb Baij ( for 15 Years )in Rabindra Sangeet and Classical, Late Ustad Md. Sagiruddin Khan (For 1 year) - Classical, Late Shantidev Ghosh (1 Year), Late Jaykrishna Sanyal (for 7 Years) –Classical, Late Nityapriya Ghoshdastidar (for 5 Years) – Classical, Mr. Pravat Pal ( Shantiniketan) in Rabindra Sangeet.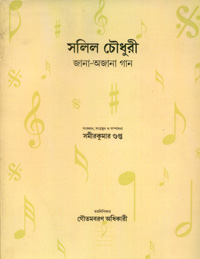 Ex. Controller Of Examination of Surer Maya Sangeet Samaj, Principal of GITAYAN SANGIT ACADEMY (Regd.), Participated in different cultural programmes in India and Countries like Bangladesh etc. Recently in 2011 in Tagore's Birthday visited Bangladesh with team of Gitayan.

Through the words of renowned music personalities, Goutam's voice will touch million hearts and spread the message of peace and harmony throughout the global village…
Salil Chowdhury composed these songs in his earlier Life. Initially he started with patriotic songs and later on transformed to different spheres and this is evident in this book. The songs that were recorded were often edited. The original flavour of the songs retained in this book.