Shri Amalendu Biswas was born on 24th November 1959 in Salkia in Howrah district of West Bengal.He lost his father when he was just in school and being the eldest of the siblings had to shoulder the responsibility of helping his Mother in bringing up his brother and two sisters. Those were difficult days when the family had to share a very small room and they had to really struggle to make ends meet.His flair for poetry came to limelight when his writing found a place in the school magazine "Tarun Tirtha" Later in1980 in little mag ChandraMallika his first poem was published. This talent of his brought him in close contact with poet Shri Binay Majumdar.Subsequently he also got acquainted with poets like Sunil Basu, Manindra Gupta, Aaloke Sarkar,Pronobendhu Dasgupta ,Debarati Mitra and Bhaskar Chakraborty.
Among the magazines that was edited by him were Chandra Mallika, Anubhav, Benoy Parimondal and Nouko.
The poems which were published were Duburi(1984), Diarir Pata(1987), Lakhhir Pa(1991) Annyo Keu Annyo Manush(1996), Mahagroho Tumi alo felo (1999), Joytsna Ghara, Aalor Bin uni(2001), Shadapata Tomakey(2004), Shaandhy Bhasha(2008), Binamro Sonnet Guchho(2009), Priyo Panchis(2011).
He has also honoured in memory of Kabi Anil Das Smriti Puraskar ( Award) by Path Sahity Patrika at March 2014. Kabi Benoy Majumder Sarak Samman by Srijan 2015 and also awarded of 'Nouko' Sahitya Patra by Kolkata Little magazine, Library & Gabesana Kendra (2014).
After several years of unemployment he managed to secure a job in a Central Govt Organisation in 1991. Two years later he married to Mandira.They are blessed with two sons.
Special Achievement:In the year 2005 he was invited by the then hon'ble governor Shri Gopal Krishna Gandhi and had the honor of reciting his poems in front of a Distinguished gathering .He has also attended and participated in Boi Mela Bangla Academy and many other poets meet. So many programme of Poet Benoy Majumdar performed & organised by himself.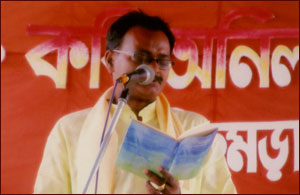 The Poet Anil Das Memorial Ceremony Mr. Amalendu Biswas feliciated
at a function in Ranaghat