About The Home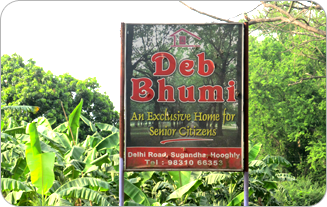 Deb Bhumi is a peaceful old age home for senior citizens, situated in Delhi Road location of Sugandha, in the Hooghly district. The home flirts with the abundant greenery around it, is quiet, and breathes pollution free air. The natural and social environments are undoubtedly attractive. To live a peaceful and happy life the above-mentioned house is indispensable. In Deb Bhumi , where we believe in providing an atmosphere of companionship, an environment that cares, that celebrates old age and that environment where there is always that person to talk to, who will listen, answer and respond, with compassion.So, come and enjoy the second part of your life at DEB BHUMI - An exclusive senior citizen's home.
All the rooms are with a Varandha & Toilet having total sized of 180 ft. having marble floor & tiles.

The rooms are furnished with Wooden cot. Coir mattress, Colour T.V set with cable connection, Centre table, Chair, Steel Almirah, Window curtain, Mirror, Fan & light fittings & Door mat.

In front of the home there is a temple of Baba Lokenath Bramhachari for prayer & meditations.

There is a luxurious dining hall at 1st floor awaiting for your guest & relatives to entertain them with delicious dishes as per your choice on different occasions at reasonable price.
Total home is under vigilance of 24 X7 CCTV Camera.
About The Directors

Mrs. Sujata Chatterjee & Mrs. Srabani Das are the Founder & Directors of DEB BHUMI who have dedicated themselves for the services of Old aged persons. They believe that servicing the humanity without any expectation is ' The Service to God ' and it is an 'Actual Bliss'. Both of them have inspired us to work for the helpless Senior Citizens of the society.

Mrs. SUJATA CHATTERJEE & Mrs. SRABANI DAS

Home | Our Services | Contact Us