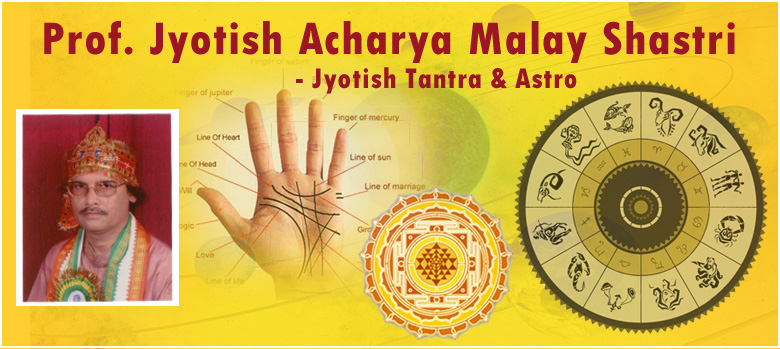 Home
Contact

Profile :


Prof. Jyotish Acharya Malay Shastri in the field of astrology for past 39 years.

President Nalanda Jyotish and Tantra Society, B.Com, B.Ed (NCERT) MA, M.Phil, Asro. Golden Crown & Double Gold Medal Winner.



Specialist In :

Kasti Bichar & Kasti Nirnay
Palmist & Face Reader
Krishna Murti Specialist

Bhaba Sput Specialist
Sanatan Jyotish

Neomerologist
Feng Shui Specialist
Jyotish & Tantra Guru ( Award )
Jyotish Bharati
Jyotish Shastri
Jyotish Acharya
Jyotish Bachas Pati

Writer In :

Bhagyo fal Patrika

Bhagyo Joy Patrika
Bhagyo Bandhu Patrika
Soubhagya Patrika
Jyotish Sidhanta Patrika
Amriter Sandhane

President : Academy of Vedic Astrological Research Society
7/1/A, Kumar Para Lane, Bonhooghly, Kolkata - 700035

Jyotish Kula Gourav Award
Jyotish Guru Award

Chamber : Tollygunge, Burdwan, Chuchura

Course :

Astrology -

Jyotish Bharati
Jyotish Shastri
Jyotish Acharya


I

Jyotish Ph.D
Numerology
Krishna Murti - Diploma
Krishna Murti - Bachelor
Krishna Murti - Masters
Bhabasfut
Vastu - Diploma
Vastu - Advance
Palm -
Diploma
Bachelor
Masters
Advance Course

Member of Astro Research Project

Life Member of Nalanda Jyotish Tantra Society

Prof.

Jyotish Acharya Malay Shastri

runs an

Astro - Learning School

having several Branches - on completion of the course. The students are provided with certificates .

Astro Learning School

are Baranagar, Chuchura, Jadavpur, Mecheda, Kharagpur, Bardwan. Regd. & Certificates given this branches.



ABOUT US | SERVICES | FEEDBACK | CONTACT US | E-MAIL
Copyright (c) calcuttayellowpages.com (P) Ltd