National Traders is one of the leading names involved in the manufacturing and export of all kinds of Steel Roller Chains, Buckets, Elevator Chain, Chain Pulley Block, Gear Box, Bearings, Gear Coupling, V.Pulley, Idler Roller, Drum Pulley, Machinery Parts and General Order Supplier. We manufacture these using the high quality raw materials and as per the defined industry standards. We offer our high quality range at the market leading prices. Our prosperity in the field of machines lies in our strong relationship with worldwide based clients. Product range, offered by us, is designed to set benchmarks in terms of quality and performance. Our relentless efforts, timely delivery and easy payment modes have earned us the trust of huge clientele, based all over the market. Designing machinery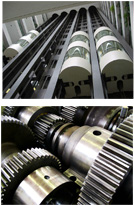 parts as per the prevalent market trends and the set international quality standards, we assure to provide the top notch quality to the clients.
Being one of the most trusted names in the industry, we have been able to serve our valued clients with an extensive range of Elevator Chains. our specially designed and tested chains will outlast your current chains and contribute to a cost effective application. We've developed chains to deliver high quality performance even under the most extreme conditions.
We are a reputed supplier of Bearings that is manufactured with accuracy. Our entire product range has exceptional strength and is used in different industrial and commercial sectors.